Watermark on free downloads
The PosterMyWall and Getty watermarks appear only on design preview images and free downloads for flyers, posters, banners and other sizes associated with print products. All videos contain watermarks. All watermarks for creative attribution (i.e. Background by Vector Art) must remain on a free download in compliance with the agreement with the artist and other applicable copyright laws.
To remove the watermark, you'll need to purchase your design. If you find a large watermark on your design, that means it contains premium stock content, is a video or both. Large watermarks have been discussed more thoroughly in this article.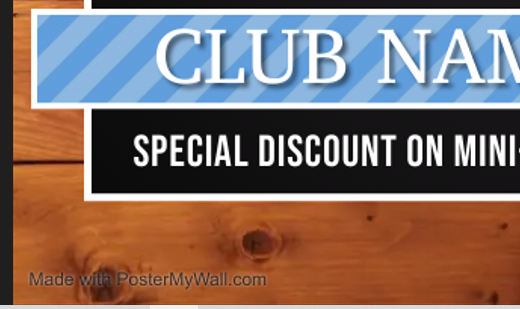 PosterMyWall watermark on free downloads
Watermark on video downloads
Free video downloads will always have a large watermark in the middle of the design whether stock graphics by GettyImages have been used or not. You need to purchase the video download for $14.95 if you're on the free plan. Video downloads on both plans are completely free and high resolution by default and will not contain a watermark.
Getting a watermark on your download despite paying
If you've already paid for a download and it still contains a watermark, you may have downloaded the free version instead. To get the paid, high resolution, watermark free download, click the download button in the editor, or by checking your Order History. When downloading from the editor page, click the download button, and select the download you've previously selected. A download you've already purchased will have the 'Purchased' tag in place of the price tag.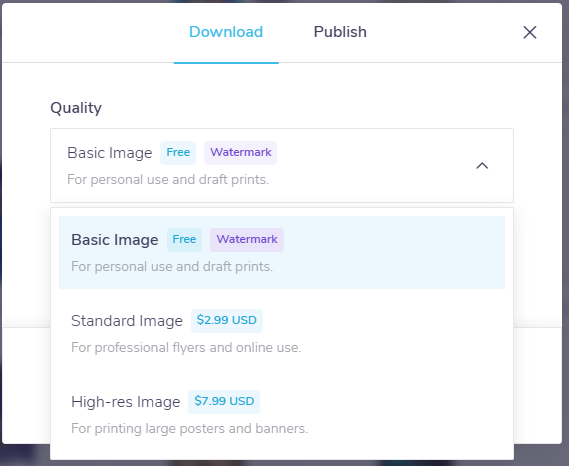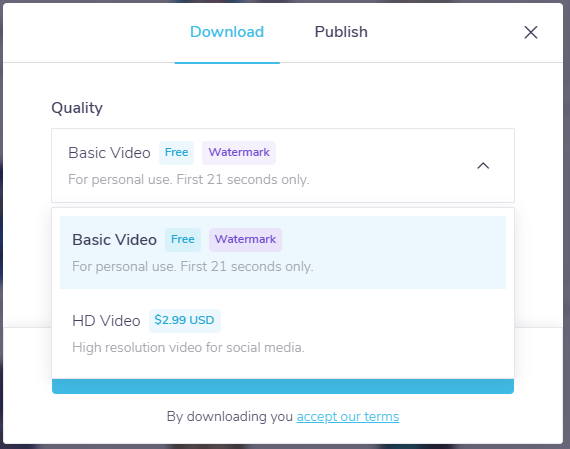 Selecting the download option, you've purchased in the past will get you the same download again, without the need to pay again. If you pick another download option, you will have to pay for that. For example, if you've purchased a standard image before, you won't need to purchase it again, and clicking download on the standard image download will get you the download for free. If, however, you click the other paid download option (in this case, high-res image), you will have to pay for this download option.
You can also get your download via the Order History page. Click the download button under your order to go to the download page. From there, you can download the purchased design. The download link is also sent to your email.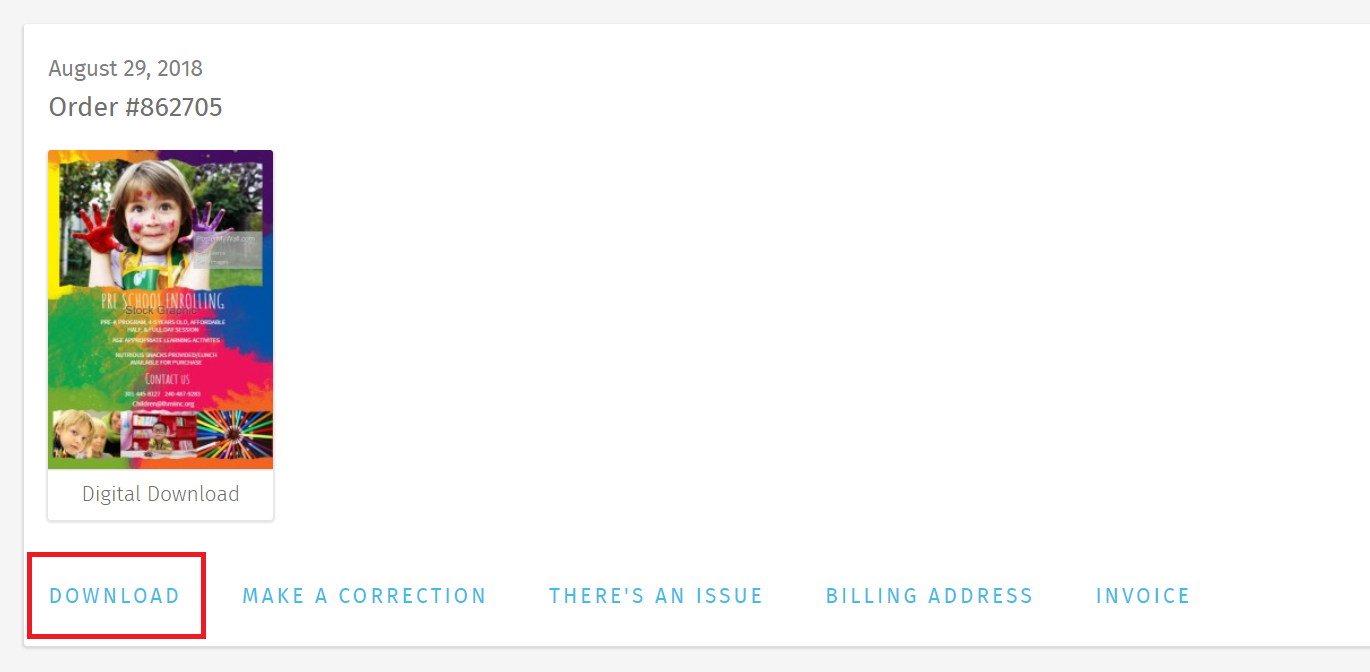 Removing the watermark for free
In some cases, you can remove the small watermark for free. Resize the design to any social media size, be it Instagram post image, Facebook shared image, Twitter shared image to remove the watermark from the free download. Use the free basic downloads to run your social media campaigns without having to spend a single penny on downloading visual content. You can resize to remove watermarks off your designs that are images only and do not contain stock graphics by GettyImages.
If you find a template that contains a premium stock photo, and you want to get it free, replace the premium elements with a non-premium stock content via Storyblocks or Pixabay, or by using your own photos. Replacing or removing GettyImages stock images will remove the large watermark of the design and the free download will no longer contain the large watermark. This does not apply to video downloads.
Other Issues
If you've followed the above procedures and still end up with a watermarked download, we recommend contacting our support team via the feedback form. They can help you fix the graphic(s) or find appropriate replacements if needed.