If you've added a video with sound, and the download appears muted, use the unmute option in the editor. Select the video, and you'll find the 'Mute' option on the right bar, beside the 'Replace and Trim' option.
If you're using a stock video, it will be muted by default as stock videos do not have sound.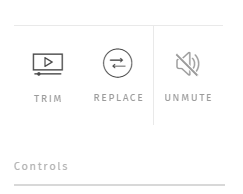 If the video has sound in the editor, but muted in the final download, this is because the generated video is muted and will not update if changes are made in the editor. To make changes to a purchased video, you need to use free edits offered by PosterMyWall. 
To access the free edits, go to 'Order History', then 'Make a Correction'. You'll be prompted to make a change in the editor. Unmute the video, and 'Save and Recreate Order'. 
Your video will then begin generation and once it is ready, you'll be sent a link via email.