Downloads can be purchased from your My Stuff folder or from the PosterMyWall editor. Purchasing a download requires you to setup a payment method prior to purchasing.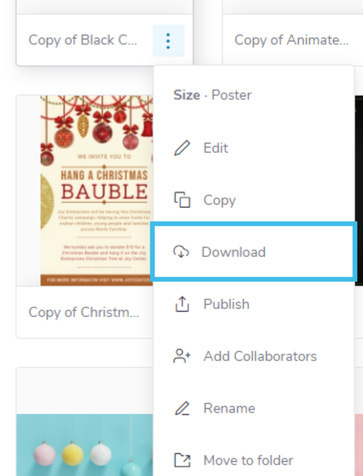 To purchase the design from your 'My Stuff', click the 3 dots below your design's thumbnail, which reveals a drop-down bar. In the drop-down bar, click 'Download Design', and you will be taken to a new page with various download options displayed. If you have a seasonal promo code, you can avail it here by typing it in the space provided. Then hit 'Buy Now'.
You can also purchase the design from the editor, by clicking the yellow download button on the top bar. A pop-up will appear with three download options for images, or two download options for videos.
Once you bought a download, an email will be sent to you with a download link to your high-res file. You can also download purchased designs via the Order History page.
We offer the following paid download options for images and videos:
High quality image (for social media images only). Good for all kinds of social media posts (2.99 USD)
Standard image (images only). Good for up to 12" (2.99 USD)
Print quality image (24' x 36' posters only). Good for up to 12" (2.99 USD)
High-res image (images only). Good for up to 8 feet (7.99 USD)
Poster quality image (24' x 36' posters only). Good for up to 8 feet (7.99 USD)
HD video (videos only). 300 dpi, great for all kinds of videos and .gif animations. (14.95 USD)
Watch this video to learn more about downloading images: