Looking for a quick guide to adding shapes and clipart? Check out this one minute video.
PosterMyWall provides an easy way of adding shapes, vectors and clipart all from one place. This can be done without opening another tab or window, and without having to browse another site.
PosterMyWall offers clipart from Getty Images, Storyblocks and Openclipart. Clipart by Storyblocks and Openclipart are completely free to use. However, using clipart by Getty Images* requires you to pay for the download, otherwise a large watermark is added to the free download.
Downloads with GettyImages are free on the Premium subscription plans.
Adding Clipart/Shapes
To add clipart, open the PosterMyWall editor.
On the left bar, click the 'Elements' button and then select 'Add Shape' or 'Add Clipart'.
If you've selected 'Add Shape', you will be shown a list of shapes and vectors, and double clicking any shape will add it to the editor. There's is no limit to the number of shapes you can add to the editor, nor will you be charged for it.
You can even add a shape, make changes to it, and then create copies of it by selecting a shape and clicking 'Duplicate' option on the right bar.
When adding a clipart, you can choose from Getty Images, Storyblocks and Flickr. Click 'Elements' on the left bar in the editor, then 'Add Clipart', and type in the search box.
Search results will appear, and double clicking any clipart will add it to your design. You can edit and create copies of a clipart, allowing you to create multiple copies with the click of a button.
Adding clipart on mobile
Here's how you can add clip art to your designs on your mobile device:
Open the editor, click on "Add" at the top left corner of the screen.


From the dropdown menu, choose "Elements".

Now choose "Clipart".


A search bar will appear. Simply type in the kind of clipart you're looking for, then click on "search".
You can choose clipart from both Pixabay and StoryBlocks so feel free to browse through both to find the perfect fit.
Make edits by clicking on the tiny arrow on the top of your clipart. You can edit and position your clip art by using the editor tools that pop up on the right.
Customizing Clipart/Shapes
PosterMyWall offers a plethora of options for customizing shapes and clipart. Below are listed various features that can be used to modify and/or enhance your shapes and clipart:
Color (available for shapes only): Change the image's color.
Edge Effects: Add rough, square, oval and other kinds of edges to the image.
Shadow: Add a shadowy layer around one side of the image. Opacity, intensity and position can be altered.
Glow: Add a light or intense glow around your image. Great for collages.
Border: Add a rounded or rectangular border around the image. Color and thickness can be varied.
Add Filter: Filters include sepia, black and white and inverted.
Tint: Adds a colored tint across the image. Can be coupled with filters.
Multiply: Multiplies pixels in the design, making it darker. A color overlay is also added, which can be adjusted according to your need.
Remove Color: A specified color is removed from the image, creating a transparent space. Great for designs with multiple layers.
Masking: Trace through the image to cut off specific parts.
Additionally, click the 'Position' tab in the right contextual menu to make use of a wide range of positioning options including:
Move the item in front or behind other design elements.
Create a copy of the selected item.
Lock the item in place.
Delete the item.
Flip, stretch or align the item with respect to your design canvas.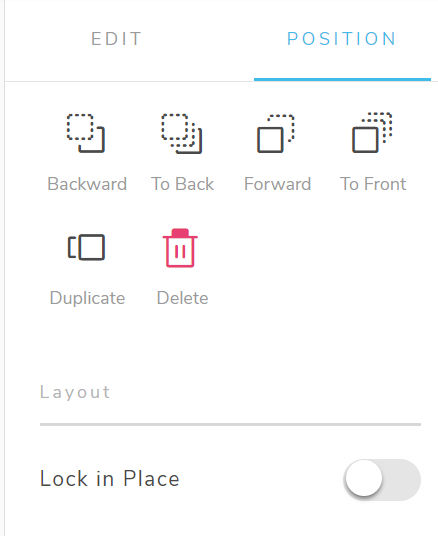 To learn more about using glow and borders in your designs, check out this video: