You can start making money on PosterMyWall easily. First of all you need to set up a designer account. Get started by creating a free account at PosterMyWall. Then create a design from scratch and submit it here.
You'll sign up as a designer on PosterMyWall during the submission process. Once that's done, every time a customer purchases your templates, you'll receive royalties (rate varies for different download types).
During the submission process, you will be asked to provide your payment details, which include your PayPal email and billing address. Royalties are paid via PayPal only.
Please note, the following rates are applicable to designers who've signed up after June 17, 2019:
| | |
| --- | --- |
| Product | You Receive |
| Standard image/print quality image | $1.00 |
| High-res image/poster quality image | $2.80 |
| HD design with stock video | $1.00 |
| HD design with your video | $2.00 |
If you choose to upload a video for your video template, you'll earn $1 more than if you use stock videos. However, using stock videos makes your job much easier as you have a huge library of videos at your disposal.
Royalties from Premium Purchases
You also get royalties from PosterMyWall Premium subscribers who download your templates. At the end of each month, a portion of the subscription price will be divided among all artists whose templates have been downloaded by the subscriber.
Royalties from downloads made by Premium subscribers will not be reflected in your dollar amount earned during the month, but will be added to your total amount earned at the end of the month.
You can differentiate a download made by a Premium subscriber from the rest via the Activity tab under your Dashboard. Downloads made by Premium subscribers will have a purple "Premium" tag on them.
Royalties vary based on the number of templates and the type of templates (image or video) used by the Premium subscriber. When dividing subscriber royalties:
Image designs count as 1 use.
Designs with a stock video are treated as 1.5 uses
Designs with a video uploaded by artists are treated as 2 uses.
Note: The royalties counter (more about this below) on your designer My Stuff page only shows the number of times Premium customers have used your templates. It does NOT show the amount earned. The amount earned is added to your total royalties at the end of the month.
Payments are given at the start of each month. You'll receive payments only if you've earned at least $50. It is possible to not earn at the start of every month if the royalties earned for that month are less than $50. In that case, you will receive payments at the the start of later months, when the $50 threshold has been met.
Previous royalty rates
Royalty rates for images are unchanged for designers who've signed up before June 17, 2019. Here are the previous royalty rates for video templates:
| | |
| --- | --- |
| Product | You Receive |
| HD design with stock video | $1 |
| HD design with your video | $2 - $5* |
*Varies with mode of payment.
Video templates with a stock video will get you a royalty of $1 regardless of the customer's payment method, which includes paying as you go, or subscribing to the Premium plans.
Displaying royalties in My Stuff
The royalties you earn from paid downloads are shown in the green counter in your My Stuff page. This counter is present in designer accounts only.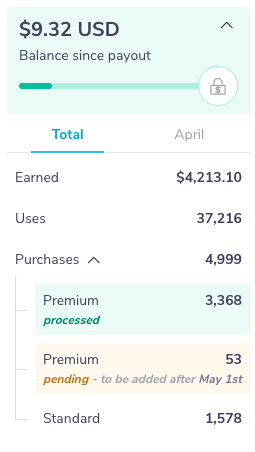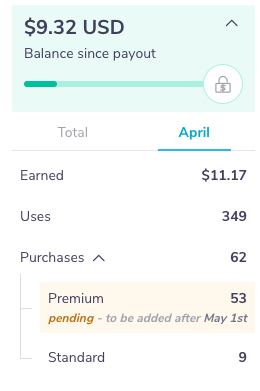 Displayed here are the dollar amount earned, total purchases, purchases by Premium subscribers and template usage (irrespective of purchases).
Note: As mentioned earlier, the dollar amount from Premium purchases is updated at the end of the month. The processed and unprocessed purchases can be viewed below the purchases tab.
Displayed Premium purchases do not show the amount earned in dollars, instead this shows the number of times a Premium customer purchased a design.
Other values displayed in the counter are updated in real time.
Royalties on discounts
If a customer makes a purchase using a promo code, for example a 30% discount, royalties will be calculated from the new price.
See this page for additional details about the designer journey.
Information needed for US citizens
If you are a U.S. Designer you must provide the following information. We are required to provide the IRS form 1099 to our U.S. Designer in January for the previous calendar year. You are responsible for ensuring that we have your updated information.
Legal Name that payment is made payable
Social Security number
Mailing address (including apt. no.)
Note: All rates and pricing related to royalties are calculated in US dollars.