You can start making money on PosterMyWall easily. If you haven't set up your designer account, read this guide.
Every time a customer purchases your templates, you'll receive royalties (the rate varies for different download types).
Add your PayPal account details under the Royalty Payments section on the Edit profile page. Royalties are paid via PayPal only.
Royalties from standard purchases
Please note, the following rates are applicable to designers who've signed up after June 17, 2019:
| | |
| --- | --- |
| Product | You Receive |
| Standard image/print quality image | $1.05 |
| High-res image/poster quality image | $2.80 |
| HD design with stock video | $1.00 |
| HD design with your video | $2.00 |
If you choose to upload a video for your video template, you'll earn $1 more than if you use stock videos. However, using stock videos can make your job much easier because of the huge library of stock videos available on PosterMyWall.
This breakdown of royalties is earned from free accounts only.
Royalties from Premium purchases
Royalties from PosterMyWall Premium subscribers are calculated at the end of each month. A portion of the monthly subscription price is divided among all designers whose templates have been downloaded by the subscriber. This is added to the total amount earned by each designer.
See the Premium purchases section under the Earnings tab to find the date when pending Premium royalties will be sent out (more details on the 'Earnings' tab below).
Royalties vary based on the number of templates and the type of templates (image or video) used by the Premium subscriber. When dividing subscriber royalties:
Image designs count as 1 use.
Designs with a stock video are treated as 1.5 uses
Designs with a video uploaded by artists are treated as 2 uses.
Designers may experience a reduction in royalties from standard purchases in the following cases:
Localized prices
PosterMyWall offers localized prices for Mexico, India and other countries. To meet the purchasing power of customers in their respective countries, the prices for individual downloads and subscription plans are discounted. This means royalties from standard sales and Premium purchases for localized prices may differ.
Discounted prices
Downloads made with discount promo codes will generate royalties proportional to the discounted price.
For example, if a customer buys a high-res download using a 50% discount code, the royalties earned from that purchase will be $1.40, instead of the usual $2.80.
Similarly, royalties from Premium purchases will be adjusted based on the discounted price of the subscription.
Displaying royalties in My Stuff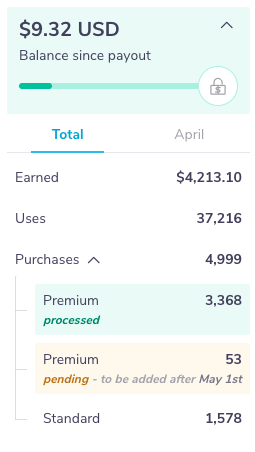 View a summary of your earnings via the Earnings sidebar on the left side of your My Stuff.
Click the lock button beside your balance since payout to view a breakdown of past earnings and pending payouts. You can also click the Earnings sidebar to view your total earnings and earnings for the month.
Additionally, you can review a breakdown of royalties earned per each purchase via the separate Earnings tab. To go to the 'Earnings' tab:
Open the My Stuff page.
Click Dashboard on the left menu.
Select the Earnings tab.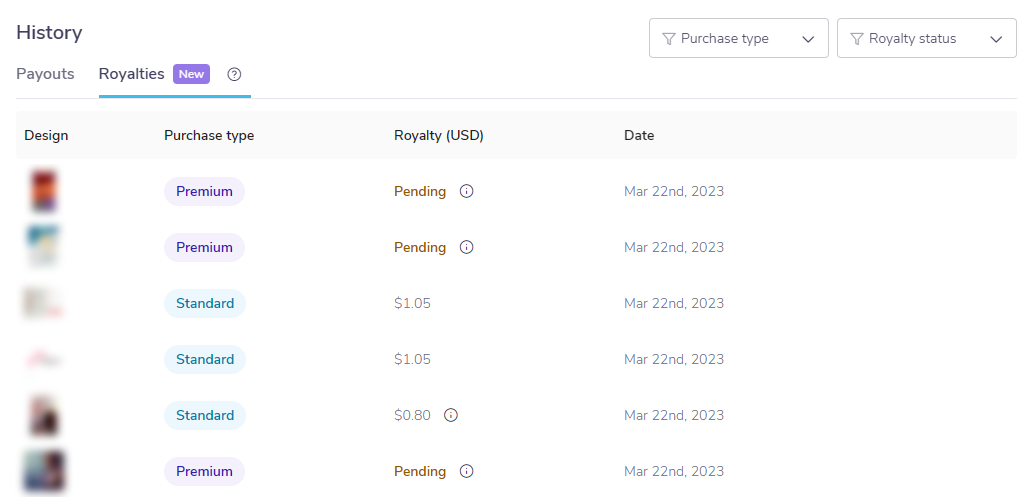 Use the Purchase type filter to sort between Premium, standard and refunded royalties.
Use the Royalty status filter to sort between pending and processed royalties. This is a good way to keep a track of your Premium royalties.
Total purchases are shown on the left of the Earnings tab, whereas monthly purchases are on the right side.
Values displayed in the counter are updated in real time.
In the bottom right, adjust the displayed sales per page or click the arrow icons to see older sales.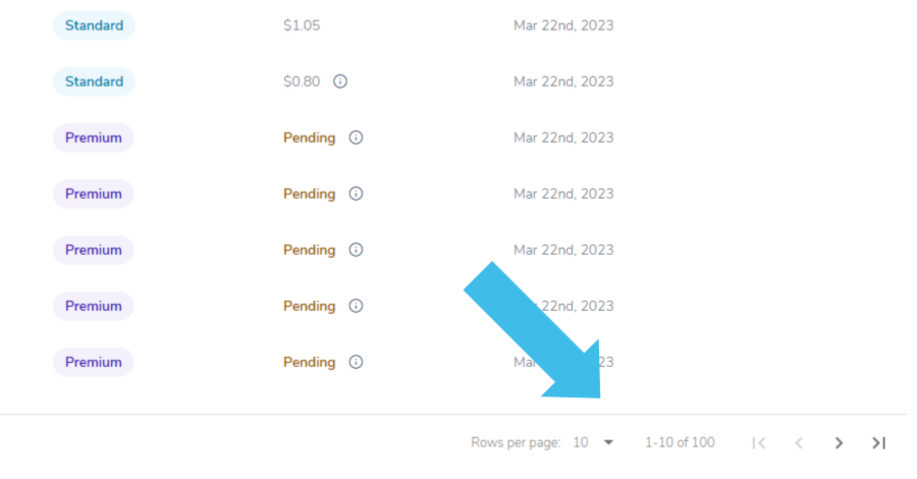 Note: Earnings from March 21st, 2023 and onwards will be displayed in the Earnings tab.
See the Earnings tab in your dashboard to learn more about royalties earned from purchases. These include:
Standard purchases. Purchases made by customers on their free accounts count towards standard purchases.
Premium purchases made by Premium subscribers. Premium purchases are further divided into pending and processed Premium purchases. You'll also see a breakdown of royalties earned per Premium purchase.
When are royalties sent out?
Payouts are sent out at the start of each month provided you have at least $50 worth of unpaid payouts.
Note: Previous royalty rates
Royalty rates for purchases are unchanged for designers who signed up before June 17, 2019. Here are the previous royalty rates for video templates:
| | |
| --- | --- |
| Product | You Receive |
| HD design with stock video | $1 |
| HD design with your video | $2 - $5* |
*Varies with the mode of payment.
Video templates with a stock video will get you a royalty of $1 regardless of the customer's payment method.