October 9th, 2020 update: You can now add up to 4 videos in your design.
"83% of marketers said they'd create more video content if there were no obstacles like time, resources and budget."
Videos are the future of content marketing. But for many small businesses with a limited budget, lack of expertise or the inability to design, creating professional advertisements and promos can be prohibitively hard.
We, at PosterMyWall, wanted to solve this problem. Creating a video has been made simple and highly accessible with customizable video templates.
Here's why using PosterMyWall videos is easy:
Video templates are easy to use! You don't need any design skills or tutorials. Anyone can create stunning professional videos easily.

It's easy on the pocket! Custom HD Videos are for $14.95 ONLY! Additionally, If you're a PosterMyWall Premium or Premium Plus subscriber, videos are free!

You can pay as you go! We don't require any commitment, simply pay for your designs as you create them. Subscriptions available also.

You can choose from thousands of Full HD stock videos to create your own designs or select a professional design template created by our designers.
60% of marketers used videos in their social media marketing in 2016 (Social Media Examiner, 2016).
Videos are not only an effective social media marketing tool, but they can also be used for engaging video content on several different platforms
Videos are for everyone! Start browsing our video gallery to find the template that resonates with your goals.
Adding videos
You can add a total of 4 videos in your design. The cost of the video download does not change per video and a design with 1 or 4 videos will cost $14.95. Your video can contain up to 4 stock videos or 4 uploaded videos. This does not apply to videos by GettyImages. A design may contain only 1 video by GettyImages. You can add up to 4 videos by GettyImages on the subscription plans.
If your design has image elements only but has an Intro Animation, it will cost $2.99 instead.
Change video duration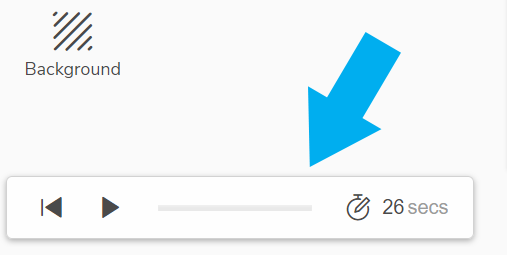 You can change your video's duration to exceed it's actual duration. Just click the clock icon as shown below, then click and drag a point in the video duration bar towards the right. You can drag the video time to up to 600 seconds in this way.
Trim a video
To trim your video, select the video you'd like to trim, and on the right-side bar, click the trim option.
In the trim window, select the sliders on each end to alter video duration, to cut off specific content from the video.
Moving the slider will change the time on the 'Start Time' and 'End Time'. You can also change start and end time by manually typing in the duration in seconds in the 'Start Time and 'End Time' boxes.

Click the blue 'Trim' button to finalize your changes.