As a designer, you'll know that Pinterest is a treasure trove of ideas for all kinds of projects, including ideas for template design. By extension, Pinterest is also a great place to share and promote your content.
While the PosterMyWall gallery will do it's fair share to show your templates in the relevant categories, and in search results, those templates are available to only a small subset of people browsing PosterMyWall.
There's a much larger segment of customers that can make use of your templates, and Pinterest is one of the best ways to reach out to them.
Why use Pinterest?
Having a strong Pinterest profile gives you access to millions of new customers that would not be possible by just limiting yourself to your PosterMyWall designer page. Your best received pins can also trickle down to Google searches, and may even appear on the front page!

Pinterest provides an easy avenue for potential customers to not only share, but also remind themselves about your templates. Not everyone who comes to your page may want to customize a template, and by pinning your template, they will probably have a look at it later.
The template they pinned is also visible to the customer's friends, or anyone else following on Pinterest, so the net of people who come in contact with your templates increases tremendously with time, if you're present on Pinterest.
How do I create a presence?
1. Start pinning
The first (and most crucial step) is to pin your templates. You should organize, and pin your templates in the right board, so anyone who goes to your Pinterest profile has an easy time browsing.
You should be pinning everyday, but how many templates you pin daily depends on who you're asking. Some influencers, such as Guy Kawasaki, in his book, 'The Art of Social Media' recommends pinning 40 items a day. This also includes you pinning other people's work to your board (more on that later).
Of course, 40 templates a day is impossible, unless if you have a near limitless supply of designs. So start low, and remain consistent. As low as 5 templates of day can have good results.
2. Do your keywords right
This cannot be stressed enough, but the descriptions, titles and keyword tags on your templates need to accurately describe the content. Otherwise, even the best template will be thrown under the bus.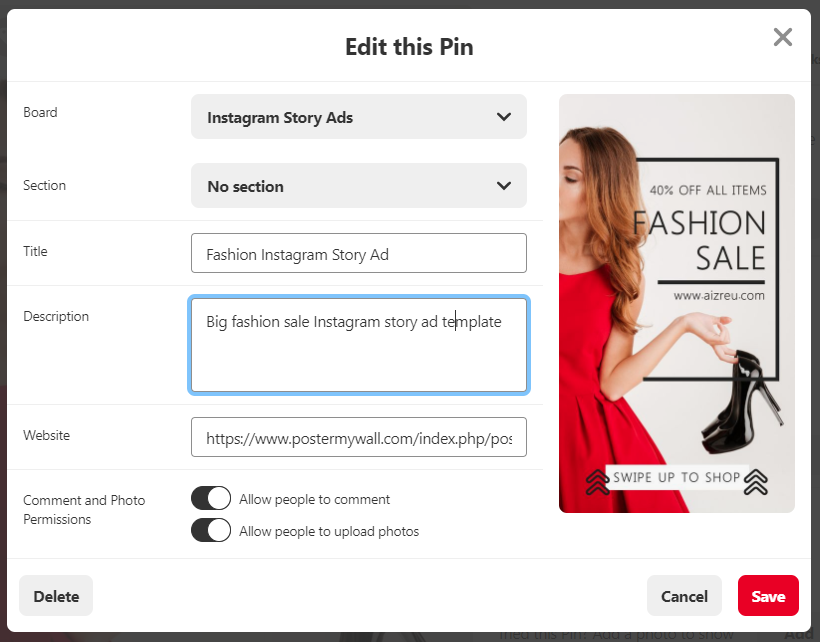 You should add the following information in any template uploaded on Pinterest:
A short title describing the design type and its purpose, for example, 'concert flyer, 'real estate banner, 'job vacancy Instagram story' etc.
A description, which adds upon what's present in the title, so for example, 'red music festival concert flyer'.
A website link, which should lead to the template in the website itself.
The website link should the view or preview page, rather than a direct link to the PosterMyWall editor. This is because the editor page takes time to load, and may cause the most impatient customers to turn back.
Instead, your chances will improve once they know they're in the website. Now, when they click the editor link, they will know and will more likely wait for the editor to load.
To go to the view link, go to the My Stuff page, click a design to open the view page. The link for the view page should look something like this:

Keep in mind every design has a unique ID, but apart from the ID at the tail end of the link, the link is the same. Just copy and paste this to the website link.
3. Go specific and dominate
Working as a designer at PosterMyWall, you can choose the content you want to create, which includes anything you're passionate about, such as album covers, spa flyers or Christmas posters. But if you're looking for success as a designer, you'll need to look what your audience wants.
Unfortunately, it's never easy and creating content that sells, and out-performs your competitors is an uphill battle, as well established designers will have a large variety of great quality designs. Customers looking for real estate flyers, school admission posters or event schedules may come to PosterMyWall, though you won't get the best sales as they have a lot to choose from.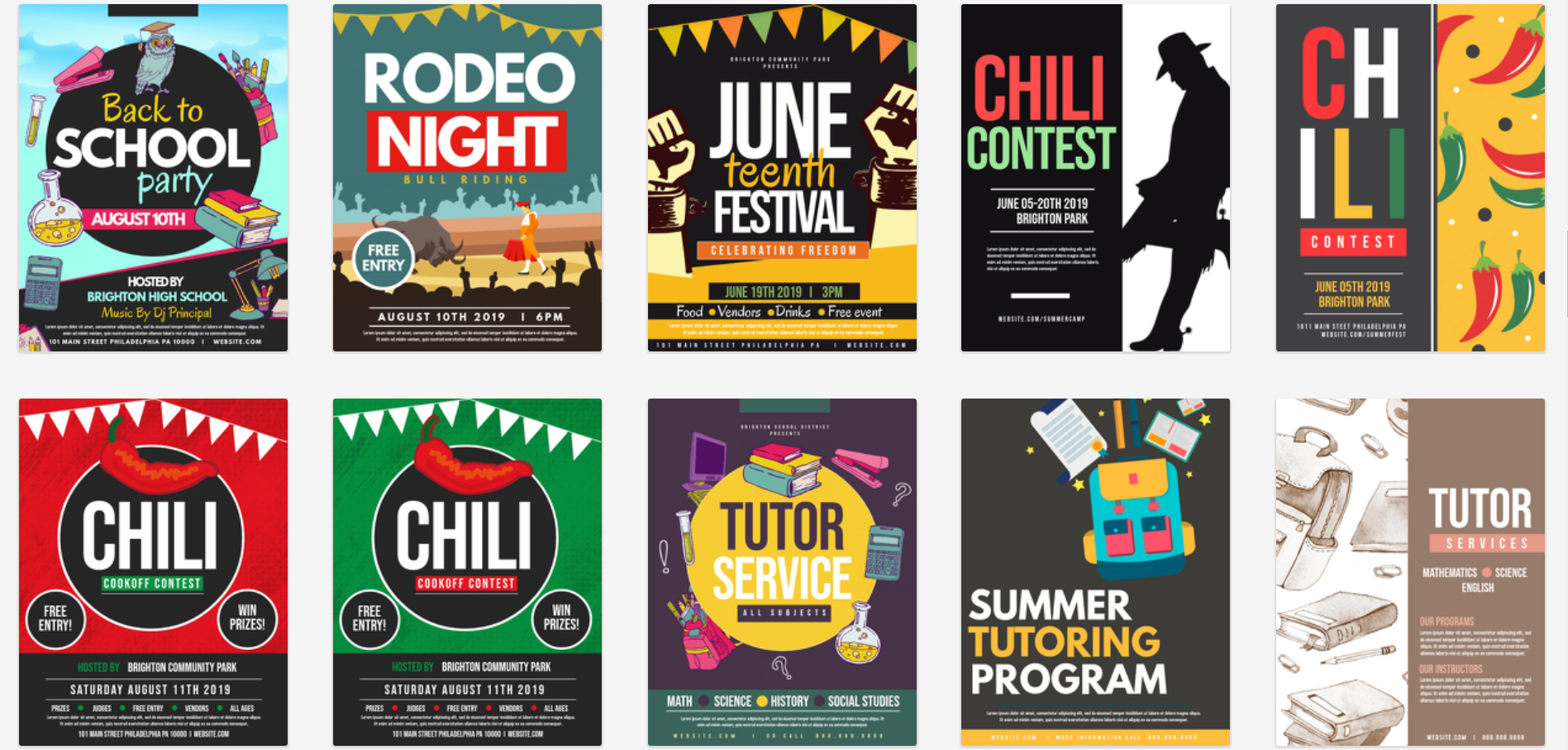 This means you want to spend time exploring categories that have yet to be tapped by the mainstream of designers. You can start by exploring Pinterest again, and look for designs that are not available (or available with few options) as customizable templates on PosterMyWall, or any other website. Here's a list of some categories to consider for your next template:
Archery Club
Botox/filler/plastic surgery related templates
Bar Mitzvah invites
Cancer awareness
Country bar flyers
Escape room/murder mystery party advertisements
We've listed only a couple of options, but you can find more options by simply a Google search.
As always, you want to create few designs that pack a punch rather than many designs that are mediocre at best.
4. Make sure it's a two-way street
Maintaining a presence on Pinterest doesn't necessarily mean passively adding your own content. Instead, you can find further uses by finding inspiration for your next template, and saving said inspiration into your own curated boards.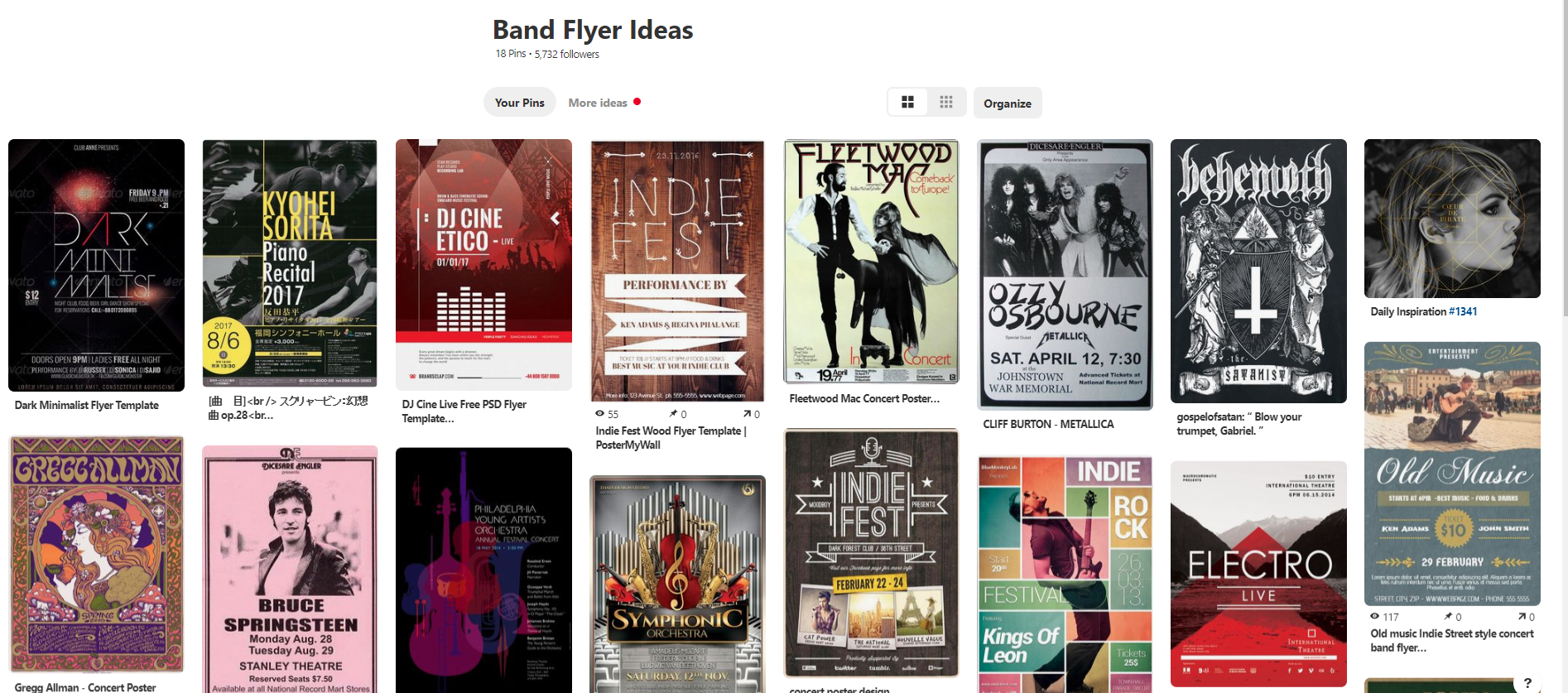 These curated boards act like your own online scrapbooks, and for customers to view this board, who can choose to follow it. You can also choose to look for other collections made by other Pinterest users, and save them.