Creating outstanding templates is great, but it only gets half the job done. Your target audience needs to be able to see your templates. Here we'll help you do just that.
The keyword tags you use, the names you give and the categories you choose to place your templates improve its visibility in the gallery and searches., which influences the customizations and sales they get.
Use the right tags
Adding the right tags will allow the right people to discover and use your templates. For example, if you've designed a menu, you want people actively looking for menus to find you. Doing this right means you'll appear in relevant searches, and also in the right categories.
The first step is to add tags that best describe your content. There are multiple ways to go about it:
Describe the design layout (Is it modern, minimalist, vintage, pastel, maximalist etc)
It's use (a party invite, concert flyer, bar advert etc)
General theme or a particular niche it caters to (E.g: For a Grand Opening template, we'd recommend adding both the tags for 'Grand Opening' and 'Small Business' to cater to the niche as well as the general theme)
The second step is finding a suitable category for the template. We don't offer categories for each and every kind of design. Adding a menu template to a category might be a no-brainer (add it to the menu category), but adding an archery competition flyer can be tricky. In this case, add the closest option available, which is the contests category.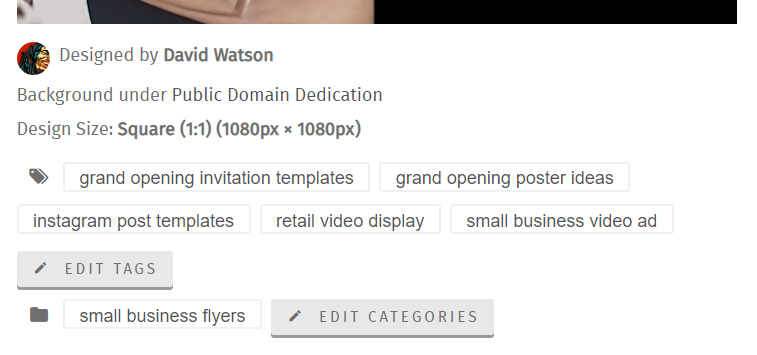 Each template on PosterMyWall is scored, and a higher score means the template will be found higher up on the page. One way your templates gain score is when customers interact with them, such as by customizing and purchasing downloads. And this is only possible if your template is being discovered by it's intended audience. That's why it's essential to add accurate tags and categories for your templates.
Add to a single category
Most templates neatly fit into one category, and some templates are not a perfect fit in any category. For example, a skiing template could be added to the 'Sports' as well as 'Winter' category (it has a 'Winter sports' sub-category) since there is no category dedicated to skiing.
Similarly, for an archery tournament flyer, you add the template to the closest category available, which is the 'Contests' category.
Sticking to a single category means the maximum number of people who're interested in your design will find it. To look at it another way, adding your template to many, or somewhat related categories means more people will view the template, and among them, fewer people will actually be interested in it. This adversely affects your score and your template will be indexed lower into the searches so even fewer people will reach it.
Not sure where to add your template? Send us a message and we'll advise you.
Describe your templates
All published templates need to have a descriptive name, which accurately describes the content. Having a descriptive name also affects searchability, and a template named 'A New Design' will have a harder time getting attention than an appropriately named design. Here are some name examples:
Modern Glossy Music Event Poster
Dark Blue Nightclub Flyer
Light Green Job Vacancy Ad
Vintage Karaoke Poster
Christmas Sale and Deals Video
Getting your template's tags, category and naming right means the right people will find your template.