To verify your account, head over to the Edit Profile page. Scroll down to the 'Manage Login Email' section, and if your account isn't verified, you will see the verification status in red, as shown below.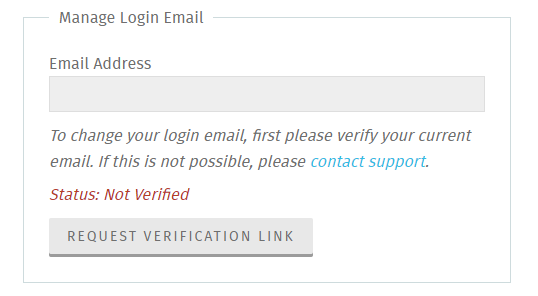 To begin verification:
Click the 'Request verification Link' button. An automated email will be sent to the email address associated with your account.
Check your email. Open the email and click the blue 'Verify Account' button to instantly verify your account. Please note the verification link is valid up to 24 hours after issuing, make sure to use it before the link expires.

If you find out that the verification link has expired, don't worry, you can request a new one at any time using the 'Request verification link' in the Edit Profile page.
I didn't receive my verification email
If you've requested a verification link and haven't received any email from us, please check your email's spam folder. If the email wasn't received by your spam folder either, you can contact support to help with account verification. Use the feedback form to get in touch with our support team.