Emails can go to your recipients' spam folders for a plethora of reasons, most of which can be easily avoided. In this article, we'll talk about why an email can be sent to the spam folder and how you can avoid it by creating a likable email.
The sender information is accurate
Your recipients should easily be able to identify you or your brand. In other words, your 'from', 'to', 'reply-to' and other routing information must contain your email address and domain name.
Failure to do so can mislead your recipients and may often result in your email automatically going into the spam folder.
You sent an email with the recipient's consent
Your mailing list needs to include the recipient only after they've given you permission to send them your promotional emails. Unsolicited emails from unknown people are often ignored and at worst sent to the spam folder.
Side note: Your mailing list should contain real people. Never buy mailing lists online, as you will not get the kind of audience engagement you can get from real people interested in your brand or product.
Don't use spam words
Many email services automatically place some emails in the spam folder. This response is often triggered by specific words used in your subject line or email content. Overtly promotional words like free or best price and fully capitalized subject lines (which often feels like you're shouting) go straight to the spam folder. Check out this list of 400+ spam words and phrases you should be avoiding.
Use upper case when needed
A subject line entirely in upper case is an easy way to send your email to the clients' spam folder, regardless of the subject line content. Use upper case only for starting sentences or capitalizing proper nouns. Use this rule for subject lines and email body.
Use correct grammar and spellings
This should go without saying for any marketing campaign, as carelessness in this department makes you appear as unprofessional in the eyes of your audience. Spam filters can also react to strange sounding sentences and badly spelled words.
Allow people to unsubscribe
Your recipients should be able to subscribe and unsubscribe from your emails whenever they want. We make this simple for you by adding an unsubscribe button in all the email campaigns you create and automatically taking care of requests from your audience to opt-out of mailing lists.
Still unsure? Preview your email in a browser or send a test email to yourself using the "Send test email" button on the last window in the email publishing dialog.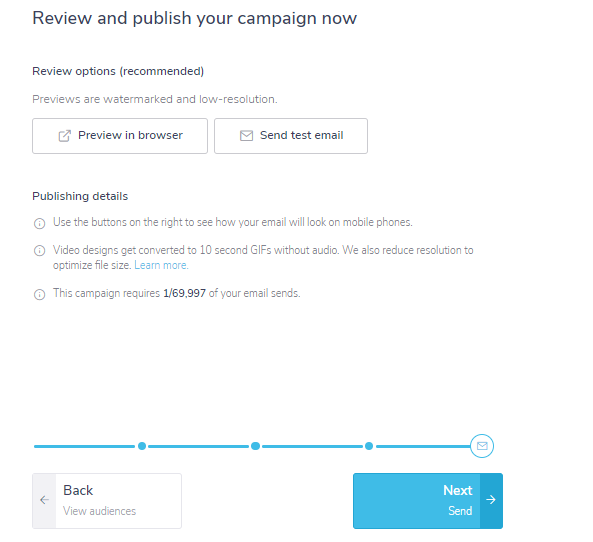 Try it out yourself
Now that you have a good number of tips to make your email more likable and less likely to be marked as spam, why not try sending a few yourself?
Choose from a huge range of fully customizable email templates, and edit and publish them using our Email Maker tool. Try it out now!