You can now display your digital display content via your screens powered by Raydiant signage. Our partnership with Raydiant allows everyone to create and display content on their screens easily, with no time wasted. You can also switch up content displayed on your screen with no hassle, by skipping the process of downloading and uploading content to your screens.
To get started, get a paid download for a digital signage design. A digital signage design has either 9:16 or 16:9 aspect ratio.
Then, login to your Raydiant account and open your Raydiant Dashboard, click the 'Add Content' button, and click 'Add PosterMyWall'. Click 'Connect to PosterMyWall' and sign into your PosterMyWall account. Select the design you want to display from the dropdown menu, add a name and duration, click save.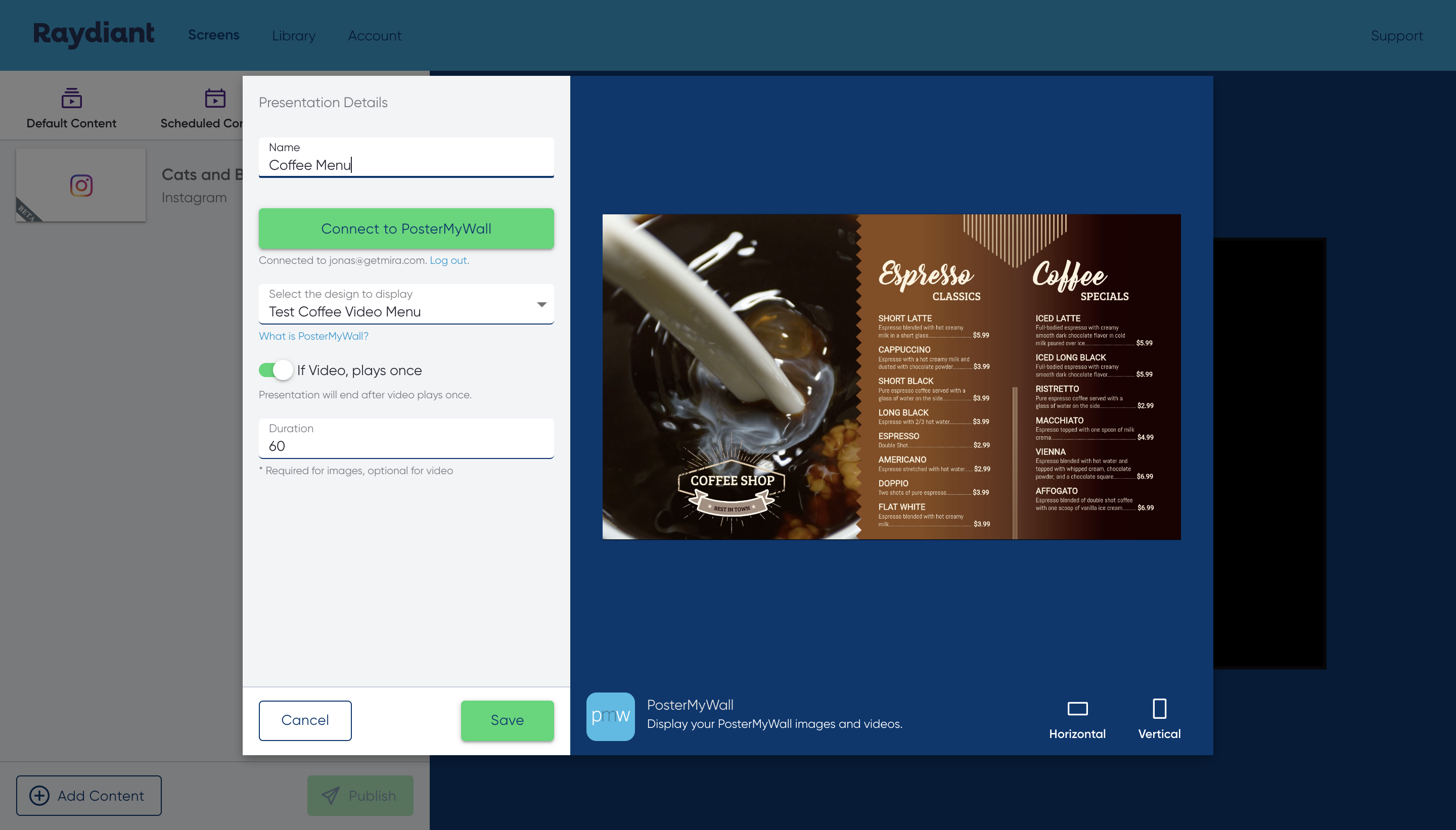 Notes
Designs for which you've paid to get a download will appear in the selection dropdown menu. Free, basic quality designs will not appear.
The selection dropdown menu will show designs of all aspect ratios, not just digital display designs. You want to use a 9:16 or 16:9 aspect ratio design for your digital display screens.
If your screens support 4K video, consider getting the 4K video download for $24.95.
If you want your video design to play for a set period of time instead of playing once and moving on to your next presentation, just toggle the "If Video, plays once" button off and set how long you want the video to play for under 'Duration'.
Republishing your signage
In case you find yourself wanting to update your digital signage, you can make changes via your Order History. Once you've made changes to your order, you can easily republish the video easily.

Click the 'Republish' button beside the 'Collaborate' button, and your video will be republished on your Raydiant screens.