Displaying digital signage content is easy and streamlined if you're using ScreenCloud. Our partnership with ScreenCloud allows everyone to create and display content on their screens easily, with no time wasted. You can also switch up content displayed on your screens with no hassle, by skipping the process of downloading and uploading content to your screens.
To get started with displaying content, get a paid download for a digital signage design. A digital signage design has either 9:16 or 16:9 aspect ratio.
Login to your ScreenCloud account, and go to the App Store page. If you haven't added PosterMyWall in your list of third party apps, you can do so here. Scroll down to find PosterMyWall.

Now that the app has been added, go back to the My Stuff in PosterMyWall. Click the downward facing arrow on your design and click 'Publish Design' on the dropdown menu.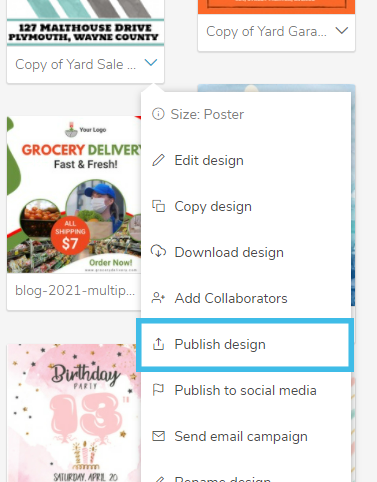 Click 'Digital Display' among the displayed publishing options and select 'ScreenCloud'. You will find an embed code displayed, as shown below. Copy the code.

Paste the code to the PosterMyWall app configuration, found in your ScreenCloud Content Library.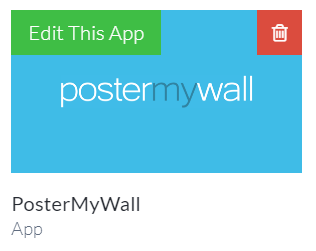 Mouse over the PosterMyWall, and click the green 'Edit this App' button. Paste the code in the text box.
Editing displayed content
You can also edit changes to displayed content by altering it directly via your PosterMyWall account. To do that, head over to your Order History. Click the 'Make a Correction' link under your design to make changes. Once you've made changes, click 'Save and Recreate Order' to save your changes.
Your design connected with your ScreenCloud account will be updated accordingly.
Republishing your signage
In case you find yourself wanting to update your digital signage, you can make changes via your Order History. Once you've made changes to your order, you can easily republish the video easily.

Click the 'Republish' button beside the 'Collaborate' button, and your video will be republished on your ScreenCloud screens.