You can create an email campaign completely for free. Just select a design saved in the My Stuff page that you'd like to use for your email, and click 'send email campaign'.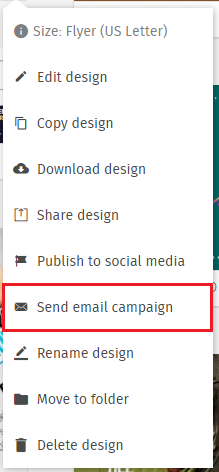 You can also send a design as an email campaign directly from the editor. If you are using PosterMyWall for free, you get a total of 100 emails per day. Unspent sends do not carry over and reset to 100 the next day.
If you're subscribed to the PosterMyWall Premium or Premium Plus plan, you get 10,000 free emails every month. Any leftover email sends get carried over. For example, if you have 5,000 emails remaining at the end of February, your total emails will increase to 15,000 by March. There is no limit to the number of emails you can send provided you have the sends available, for free or by purchasing.
You can purchase more sends by using credits.