What does it mean to embed something to your web page?
Embedding an image or video on your web page simply means inserting an HTML code or snippet into your web page, which displays it for users on your website. If it's a video, they will be able to watch and hear it. The embedded content can also have a click through link added to lead the user elsewhere.
Embedding works slightly differently for different websites. For example, in Squarespace, you need to add embed blocks. On WordPress, simply pasting the embed code to your web page will get the job done.
How to embed my design?
To embed a design, click the 'Publish' button on the top menu of the editor OR click the downward facing arrow on your design in your My Stuff, and in the dropdown menu, select 'publish design'.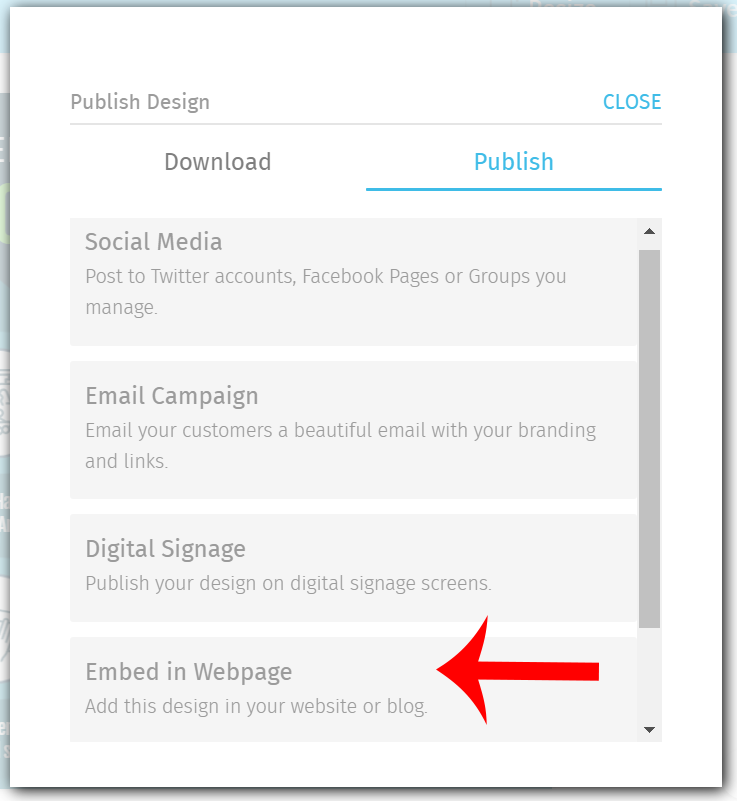 On the publishing menu, click 'Embed in Web page'. Here you can:
Edit the clickable link to your embedded design via the 'Link on the design' option. Use this option to add a link to your web page you'd like your audience to go to.
Use the text snippet under 'HTML embed snippet' to embed your design on your website. Click the paper icon besides the snippet to copy it.
If you've already embedded the design on web pages in the past, and would like to remove them, you can do so by clicking 'Unpublish Design', and the embedded design will be removed.
Add your clickable link, copy the HTML snippet and paste it to your web page.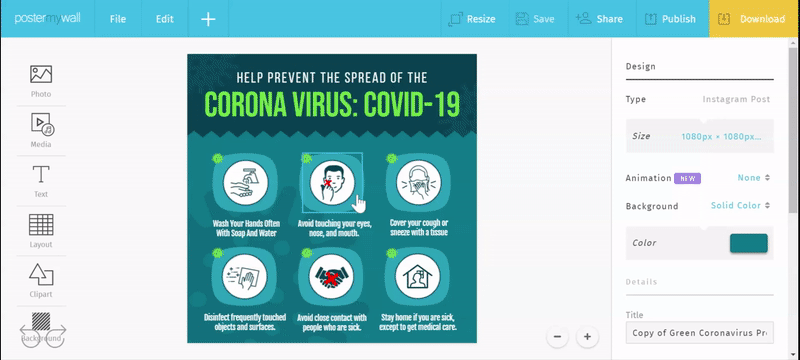 Note: The default link on your design will take the viewer to a preview page of your design on PosterMyWall. They cannot alter your design via this link, however they can create a copy and customize it on PosterMyWall.
Embedding in a post on WordPress
To embed a design in your WordPress page, here's what you need to do:
Go to your WordPress admin page.
Open a post to edit, or create your new post. This can be done by going to Posts > All posts.
Insert the link in your post. You can also click the Preview button to see how the design looks before hitting save.
Save and close your post.
Embedding in a blog post on Squarespace
To embed a design in your Squarespace page, here's what you need to do:
Go to your Squarespace admin page.
Select a blog post, and click Edit.
In your blog post, click a blue plus sign that appears when you mouse over your content. This will open the Block menu.
From the Block menu, select an Embed block. Insert your copied link into the Embed block space.
Click Apply to finalize changes. Save and close your post.