Learn more about slideshows through this quick video guide:
Use slideshows to create animated slides with text, image and video content. Slideshows allow you to:
Display more content in less space.
Make your video dynamic and attractive.
To create slideshows, click 'Text', 'Photo' or 'Media' from the left menu, and select 'Add Slideshow' from the expanded options. Your first slideshow will depend on the menu used to add a slideshow. For example, you can add a slideshow with a video item when going to 'Media' > 'Add Slideshow'. Selecting a particular menu doesn't limit the slideshow options available to you for subsequent slides.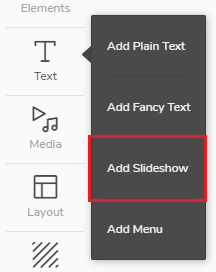 On the right contextual menu, you can add your content under from under the Slides tab.
Click the 'T' button to add a text slide.
Click the photo button to add an image slide.
Click the play button to add a video slide.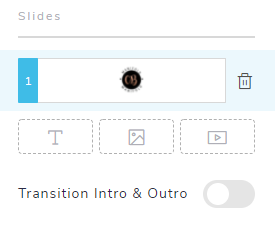 Use the small square box besides the slides text box to set the time duration for each slide, in seconds. It is set to 3 seconds by default. Use the media controls on the bottom left of your page to play or stop your slide.
Slideshow text content can be customized exactly like plain text. Similarly, slides with photo and video content can also be edited via the Edit tab exactly like other image and video content.
Content can vary greatly between slides within a slideshow, allowing you to expressive your creativity to the fullest.
To standardize formatting on your slides, select the slide that uses the formatting that you'd like to apply to your other slides within that slideshow. In the Effects tab below, click the blue 'Apply' button as shown below.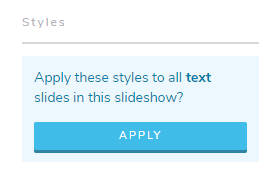 Slideshows are free to use, and can be used on all kinds of designs. If your design is an image, adding slides will convert it to a video. Designs with slideshows can be downloaded as an mp4 or .gif file.

Using a transition that works
There's more ways to transition your text that simply fading it in and out of the design. Under the 'Slides' settings in the right contextual menu, click 'Transition' to expand the transition options available to you. Here are the transitions you can use:
Fade (default option)
Block
Shrink
Peek down (up, left or right)
Wipe down (up, left or right)
Pan down (up, left or right)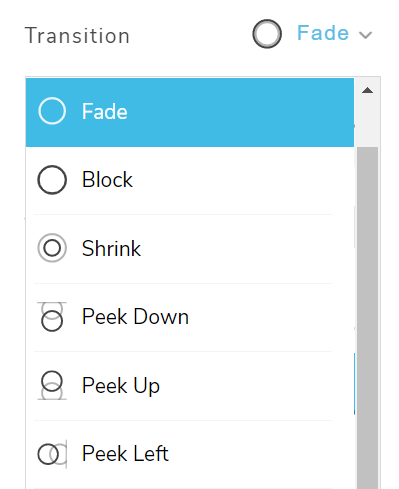 If you want to create a full transition for your slideshow, toggle the 'Transition Intro & Outro' button, which allows your first text item to transition in and your last text item to transition out. You can also adjust the animation speed from 'slower' to 'faster' and everything in between.
Words can't explain which transition will work best for your design. We recommend experimenting with each transition option to see which makes a good fit for your design.