What is a hyperlink? 
You can add a clickable link that goes to a webpage to text and image content on your design. Clickable links, or hyperlinks allow viewers of your design to go to a webpage of your choice by clicking the hyperlinked item on the design. 
In this guide, we'll walk you through adding a hyperlink to your design. 
Note: Hyperlinks only work on PDF downloads, published webpages or an embedded link. 
How to add a hyperlink? 
To add a link:
Select the text box or image you'd like to link in the editor.
Then on the right selection menu, add your link under the 'Interactivity' tab. It's the last option so you'll need to scroll down. 
Click either of the displayed links below your link to download your design as a PDF, publish on a webpage or an embedded link.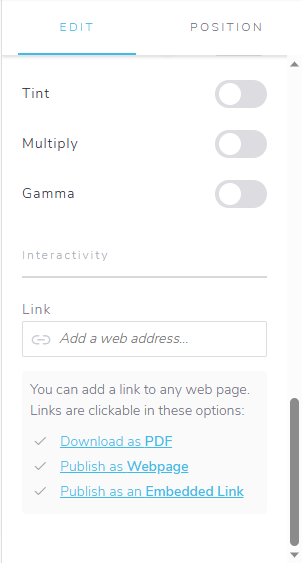 If you choose the Publish as an Embedded Link option, you can copy an HTML snippet of the design that you can then paste into your website's HTML code.
Additionally, you have the option of adding a link on your embedded design. Clicking the embedded design will take your viewers to this link. Note that any other links added to items in your design will not be functional when this link is applied.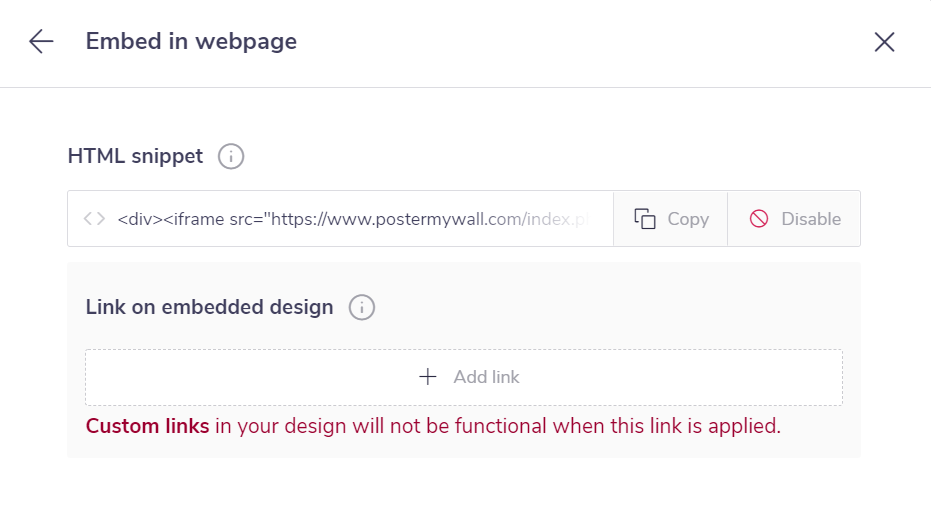 If you choose Publish as Webpage, you'll be provided a link to the design, which will allow anyone using the link to view your design on webpage without the need to login to PosterMyWall. Add the link to your web page or email to send viewers to a separate tab to see your design. 
If you click Download as PDF, you'll get a PDF download for your file containing the linked text or image. Attach the PDF file to an email or messenger app and send it. PDFs can't be uploaded on social media. 
In all 3 cases, you'll be required to the purchase the design if you're on the free plan. 
Note: Designs downloaded in jpg, png formats or as a video do not contain the clickable links. PDF files with clickable links cannot be uploaded on any social media network. Use email for sending linked PDF files to others. To get the design as a PDF, you will have to buy the download.
Add links to your email campaign
Here's how you can add clickable links to your email campaign.
Clickable links can be added to a variety of elements such as buttons, images, videos and text content in email templates. These links can be used via emails sent to the recipient's inbox.