Premium and Premium Plus subscribers can use Credits to download images and videos that contain stock graphics by Getty Images. Premium subscribers need Credits to purchase videos. To see your existing Credits, simply:
Go to Premium Billing via the profile drop-down
Find your usable credits under the 'Your Credits' section.

To buy Credits:
Click BUY MORE CREDITS in the 'Your Credits' section
Select a Credits pack.
Click NEXT: SELECT CARD.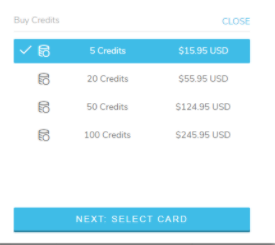 After adding your card details or selecting an existing card, click NEXT: REVIEW ORDER.

Purchased Credits are available for use and can be viewed under 'Your Credits'.