Use folders to organize your work and avoid clutter in your My Stuff.
To create a folder:
Click the 'Add New' button on the top right of the My Stuff page.

Click 'Folder' from the expanded list of options.
You'll find a new folder in your folders list. Start typing to enter the folder name.
Click the tick sign to confirm the name.

Alternately, you can use the 'New folder' button in the folders list to add a new folder immediately.
Editing your folder
Clicking the 3 dots on any of your folders allows you to Share, rename, move, delete or check the activity log for your folder.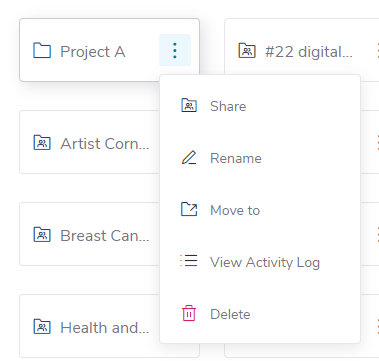 Use the 'Share' option to share a folder (with the designs inside) with others so they can view and/or edit the content.
Use the 'Move to' to move around your folder. Use this folder to move one folder into another folder.
Adding a design to a folder
You can move any design in your My Stuff to a folder of your choice. Simply click the 3 dots beside your design name and select 'Move to folder' from the drop down menu.

Opening a folder and creating a design will automatically save the design within that folder.
Watch this video to get a quick primer on using folders: