YoDeck is an online digital signage platform that allows you to use a customized player kit to power your signage screens. It's a must have tool for any business looking to control and display the content they show to customers.
You can now display your digital signage content created on PosterMyWall with the help of YoDeck.
To get started, get a paid download for a digital signage design. A digital signage design has either 9:16 or 16:9 aspect ratio. Head over to the publishing options available for the design via the My Stuff page. Next, click 'Digital Signage'.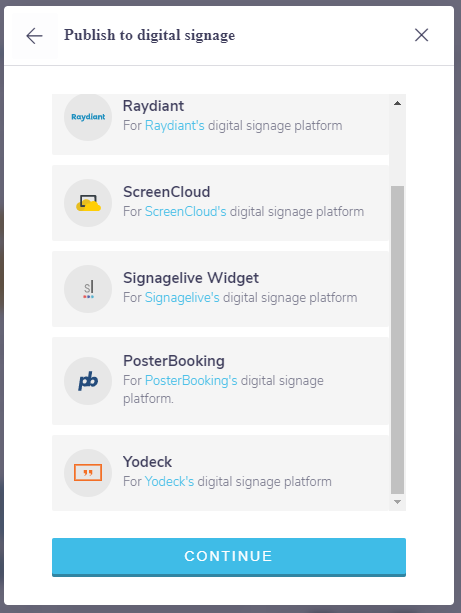 Then select YoDeck from the signage app options. Click the 'Continue' button to confirm.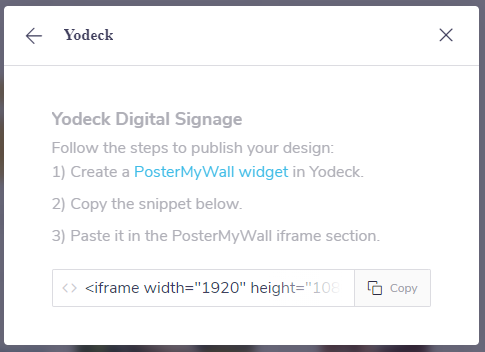 Copy the iframe snippet available by clicking the 'copy' button.
Setting up your widget on YoDeck
To set up your widget on YoDeck, log in to your YoDeck account. Next, head over to the 'Widgets' tab in your YoDeck dashboard. Select PosterMyWall from the options available to you. You will need to add additional details about your video on the PosterMyWall signage tab:
Video name.
A short description of the video (is the video to be used for your lobby or elsewhere?).
Paste the iframe snippet previously copied.
Select video duration.
Set 'Play from' and 'Play Until' duration. Recommended that you tick the Always and Forever checkboxes if you want the video to play indefinitely.
Alternately, you can also download your digital signage video, then upload it via the 'Media' tab in your YoDeck signage.