You can share and schedule designs directly from the PosterMyWall website to your Facebook group or page easily, and for free. You can also share your design to other pages and accounts simultaneously, such as on Instagram or Twitter.
This can be done from any device, including laptop and mobile. To learn more about posting social media content on Facebook, via PosterMyWall, read on.
Create a social media post
To create your Facebook social media post:
Open your My Stuff on any device.
Click the downward arrow on your design to find the 'Publish to Social Media' option.
Connect your Facebook page/group by clicking 'Manage Accounts'.



Click 'Add Account', then click the Facebook button. Add your Facebook group/page.
You'll then be asked to login to your Facebook account and connect with your Facebook group/page.
Click 'Allow' for posting permissions asked on behalf of Facebook. This allows you to publish Facebook content via your My Stuff page.
Now enter your caption and hit publish (if you get an error message, continue reading to troubleshoot it).
If you haven't purchased the design, you can still publish the design, but the post will contain a PosterMyWall watermark.
You can use social media publishing to share content on Facebook groups and pages that you administer. You cannot use this feature to publish content on personal profiles. You will also need to add the PosterMyWall app to the group's whitelist before you can post.
This can be done by using the publishing option, select the group you'd like to post to, and hit 'publish'. You'll find an error message as shown below.

Click 'click here' and you'll be taken to your group settings. In the group settings:
Scroll down in the Advanced settings, go to 'Apps'.
Search for PosterMyWall and Add.
Return to here to continue posting.
Now you can freely post your content on your Facebook group/page.
Publishing requirements
Most images can be published on Facebook without any issue. However to avoid any issues such as image cut-off, we recommend using the Facebook shared image or Instagram post preset sizes.
You can also use social media publishing to publish videos on Facebook.
Note: Videos may take time to publish, owing to their large file size. It may take up to 5 minutes for the system to process and publish the video to Facebook on your behalf.
You can choose to close the publishing dialog once you've hit the Publish button. The post will process in the background. You can view your post status via the Social media posts tab in your My Stuff.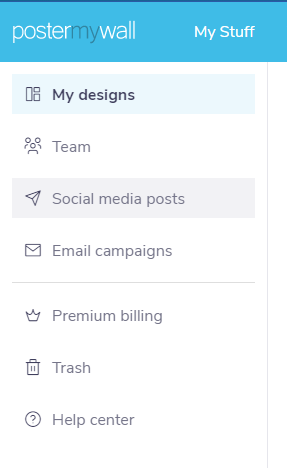 Note: Published and scheduled posts can also be viewed in the Content Planner. Use the Content Planner to review older content and plan for the future.
Publishing cost
If you're not subscribed to PosterMyWall Premium or Premium Plus, you can still publish your designs for free, however the published design will have a watermark. However, you can avoid this by purchasing the design in advance, or by using the 'pay and publish' option in the publishing interface.
If you're on the Premium subscription plan, image posts are free and contain no watermark. If you're on the Premium Plus plan, image and video posts are free and contain no watermark.
Images and videos with stock graphics from GettyImages need to be purchased once with Credits.