Videos can add life to your email like no other form of media. You can add short videos to your email campaign, which are auto-converted to a 10-second GIF.
To add your video:
Select 'More' from the left email editor menu.
Select 'Video' from the expanded options.
Add your video by uploading one or searching for a stock video.
Uploading a video
To upload a video, click 'My Videos' in the pop-up menu after selecting the 'Video' option in the left email editor menu. Click the plus sign button to browse and add a video from your device.
Videos previously uploaded to your designs or email campaigns on PosterMyWall will also be available for use in the 'My videos' menu.
Uploading a stock video
To use a stock video, click 'Video' in the left email editor menu then select 'Stock Videos' in the pop-up menu.

Select either the Storyblocks or Pixabay libraries from the bottom left corner of the stock video search page, then start typing in the search box. You can also select the 'All Sizes' box to sort between 4K and all videos.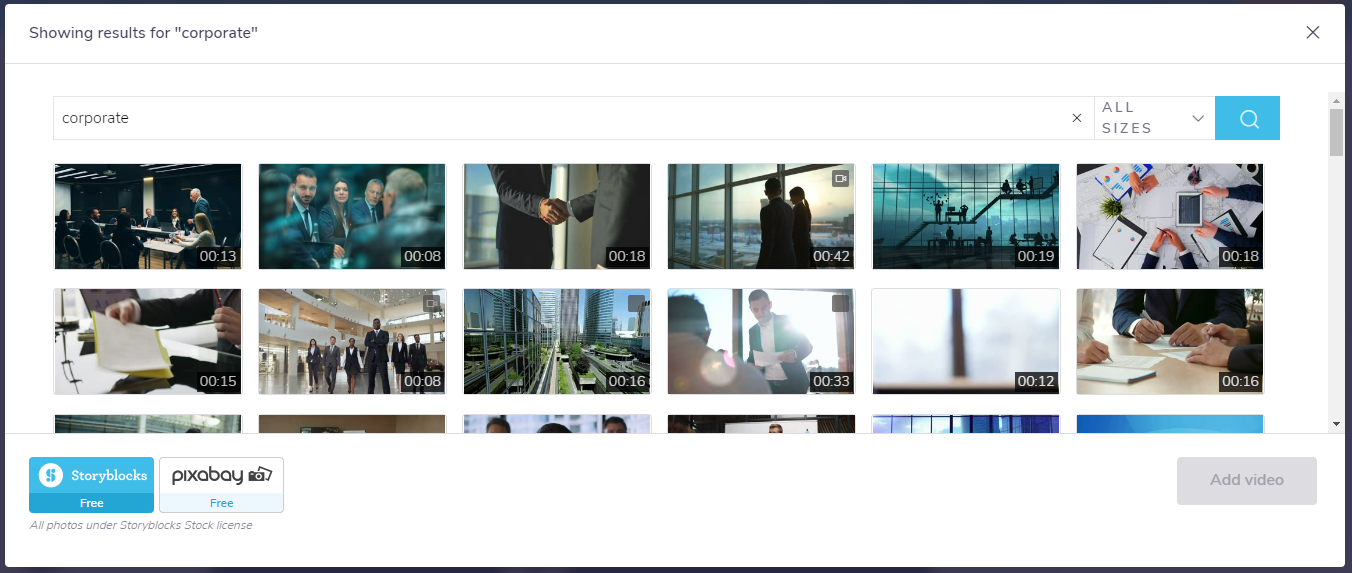 Select a stock video of your choice, then click the 'Add Video' button to add your video.
Video format and use
Some changes are made to videos to display them in emails:
Video duration is set to the first 10 seconds
Video audio is removed
Video format is set to gif and it will auto-play in your email
You can add up to 5 videos to your email. Videos increase loading times so it's advisable to use no more than 1 video per email. Emails with longer loading times may cause recipients to turn back before the email gets a chance to display properly.
See our detailed guide on using videos to learn more about using video.
Watch the video below to learn more about the Email Maker.