Currently, 87% of marketers use email marketing to reach their audiences; and for good reason. People are far more likely to open emails, see your promotions, and engage with them than they are to do the same on social media or any other online platform.
So if you're running a small business, it's time to start thinking about email marketing. This can be pretty daunting, though. Especially if you don't have any help. That's where we come in. PosterMyWall's all-new, fully integrated email marketing platform allows you to create and send beautiful emails with ease and no coding or design skills required!
It's a one-stop shop for anyone looking to run an effective email campaign. Design your email content, and publish it all from within one interface.
If you're looking to get started with email marketing using PosterMyWall, you've come to the right place. This step-by-step email marketing guide covers everything you need to know about creating your email and publishing it. Say goodbye to boring emails that do nothing for your business, and say hello to beautiful emails that capture your audience's attention!
Step 1: Choose a design from thousands of email templates
Take your pick from thousands of email templates from the new PosterMyWall email templates gallery. Whether you're creating a welcome email, a sale announcement, or an email newsletter, with PosterMyWall, you can find and pick an appropriate template in minutes.
Once you've done this, simply open it in PosterMyWall's Email Maker as shown below.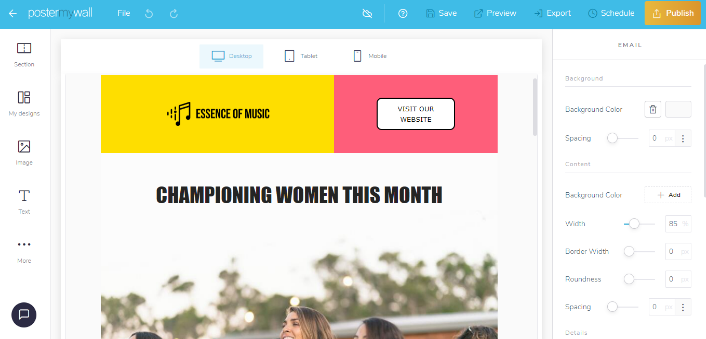 Step 2: Customize your template with easy-to-use Email Maker tools
Based on the kind of email you're creating, you'll want to make changes to the template and design it in a way that grabs the most attention and still reflects your brand. PosterMyWall's Email Maker can help you make whatever adjustments you want for a stellar email campaign.
Here are just a few things you can do during the designing and customizing process:
1. Add sections to your email template
Multiple sections in your email allow you to segment your content and deliver your information in a clear and interesting manner. You can add all kinds of text and graphics in your sections to make each one unique.
To add a new section to your email template, follow the steps below:
Click the 'Section' button on the left menu (it's the first option from the top)
Find the new section at the bottom of the Email Maker. Click to insert at the bottom of your email, or drag and drop it from the menu to an area of your choice
Click the 'Insert text' box to start typing. Edit the text font, size, color, and more via the right contextual menu
You can add a separate image or a video to each section. To select an image, simply click on the 'Image' icon in the left corner of the editor. To add a video, click on 'More' in the left corner, and then select 'Video'
Select and hold the button with 4 opposite-facing arrows on the top right of your selected section to move it around the email template.
Each section is fully customizable so you can add text, graphics, stickers, borders, and even columns to make it look pretty.
2. Place a compelling call-to-action button
A call-to-action button allows you to end your email with an instruction for the reader, while your brand is still fresh in their mind. This can be a call for people to go to your website, buy your products, watch a video, or listen to a song. A CTA button is most effective when it's placed at the end of your email so that the reader is able to make an informed decision about whether or not they want to interact with you further.
Adding a CTA to your email is super easy with PosterMyWall's Email Maker. In the Email Maker, follow the steps below:
Click 'More', then select 'Button' from the expanded options on the left menu
You'll find a 'click me' button with rounded borders in your email
Select and hold the 4 opposite facing arrows button to move the button around the email template.

The best part is, that you can customize this button to make it look like whatever you want. Change colors, fonts, text, and add your own custom link.

Spaces can help you streamline your email content and make it look less cluttered. After all, you don't want your reader to be totally overwhelmed by all the text and colors as soon as they open your email. You need to put some effort into ensuring that your email is easy on the eyes.
Here's how you can add dividers to the different sections in your email:
Select 'More' from the left email editor menu (it's the last option)
Select and hold 'Divider' from the expanded options
Drag the divider to your preferred area in the email.
That's not all. You can customize your divider to make it fit your brand or the aesthetic of your email. Change the width and height. Change the background colors. It can all be done in minutes through the Email Maker.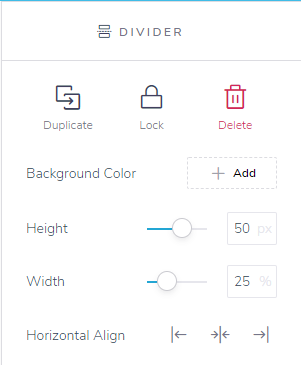 Once you create your ideal custom divider, you can simply duplicate and lock it into place in other spaces in your email. This will save you time and make the whole process a lot more efficient.
Use spacing
Spacing is a tool you can use to add margins around your email. Simply use the 'Spacing' slider on the right contextual menu to set spacing up to 50px for all sides. To add custom margins, click the 3 dotted line beside the spacing number to open up more controls to set margins above, below or on either side of the email.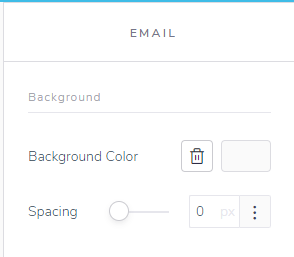 4. Add a video to your email to spice things up
According to Optinmonster, video is a leading source of gaining new leads. People are simply far more intrigued by moving images than they are by static images.
We recommend that you keep the content of your videos simple and straightforward. The PosterMyWall Email Maker adds your videos as 10-second GIFs without audio, so the more you can say with a few nice shots, the better.
To add a video to your email, do the following in the Email Maker:
Select 'More' from the left email editor menu
Select 'Video' from the expanded options
Add your video by uploading one or searching for a stock video.
We have tons of incredible stock video options available for you. Simply search for one that reflects your brand and add it to your email. You can, of course, also upload your own video through the Email Maker.
Although you can add up to 5 videos to each email, remember that you can deliver your message effectively with just one video as well. Again, you don't want to overwhelm your reader by doing too much.
5. Change your background
The right email background is so important to help you sell your brand effectively to your readers. Plus it makes your email look visually more appealing.
The great thing about the PosterMyWall Email Maker is that it allows you to play with all sorts of different background options. Solid colors, images, videos, you name it.
To set the background color for your email:
Click the right contextual menu without selecting any item in the email editor. Click the 'Add' button besides 'Background color, or the color box if a color is already selected
Use the color palette to pick the color of your choice. Click the trash can icon to set the background color to white
You can also reuse colors already present in your email by clicking the colors below 'on my email'
Do you remember how we talked about different sections for your email? Well, you can add a different background to each section. Isn't that cool?
To set a background for your section:
Select a section, then browse the right contextual menu
To change the background color, click the box beside 'Background Color' to open a color palette like the one shown above
To add a background image or video, click Background Media to upload your image or insert a stock graphic.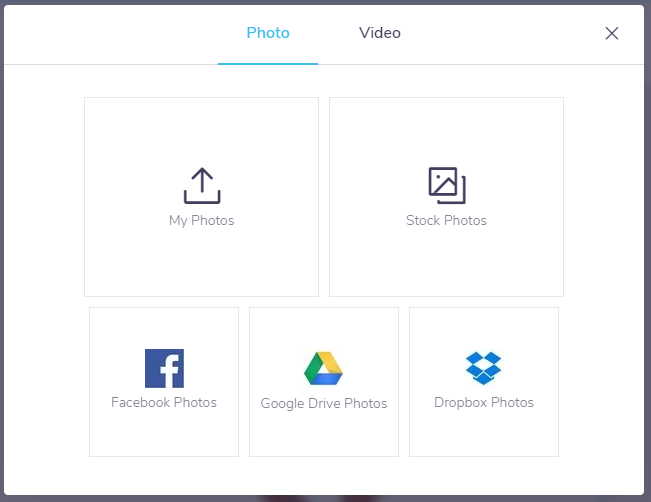 6. Link to your social media accounts
Adding your social media accounts to your email is a crucial step to building your network and increasing exposure online. It's also an opportunity for interested potential customers to get to know you a little bit better before doing business with you.
Remember that it's unlikely that a reader is going to check out all the social media links you add. The smartest thing to do is to pick your top 3 accounts (with the most following and with the greatest amount of useful content) and link those. And with the PosterMyWall Email Maker, once again, it's super quick and straightforward:
Click 'Social' on the left menu in the email editor. If you don't see the option, click 'More' to expand the list of options
Clicking will add the Socials tab to the bottom of the email. You also hold, then drag and drop the socials to anywhere on your email
Edit the socials by selecting, then adding or removing links to their respective icons from the right contextual menu.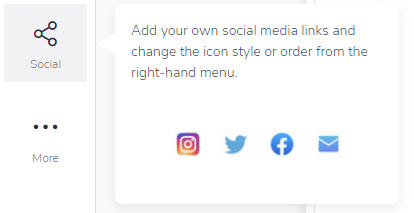 There are about 15 social media buttons available to you in the Email Maker, both colored and in black-and-white. Choose the ones you want to add and add your links to each by clicking on the 'Add a social media link' button.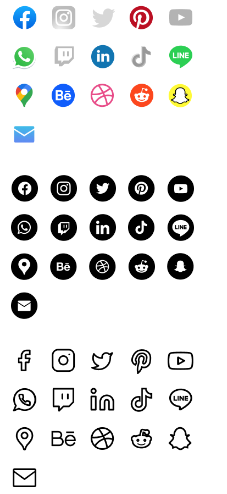 7. Adorn your email with photos
Let's face it, no one likes boring, colorless email with no pictures. The right photos add a much-needed flair to your email and make it look a lot prettier. They also make your content more eye-catching especially if you've got your products on display.
You can use the PosterMyWall Email Maker to add your own photos or stock photos to your email. While there is technically no limit to the number of photos you can add, we recommend that you stick to no more than 3 photos per email. This is so that it doesn't take too long for your email to load once it reaches your readers' inboxes.
To add your photo, select 'Image' from the left email editor menu. Add your image by uploading one from your device, using stock graphics, or linking and uploading via your Facebook, Google Drive, or Dropbox account.
Removing the background to images is also an option within the Email Maker.
Simply select the image whose background you want to remove, and click the Remove Background button in the right contextual menu.
Check out this helpful article to learn more about how to remove image background.
8. Segment your product options and price lists with a table
A neatly displayed table in your email allows you to convey information about your product options and prices. Moreover, it allows the reader to view all this information in a streamlined and easily readable manner.
To add a table to your email using the PosterMyWall Email Maker, you need to do the following:
Click the 'Table' button on the left email editor menu (if you're using a small screen, click 'More' then select 'Table' from the expanded menu)
Clicking the 'Table' button will add it to the bottom of your email, or you can drag and drop it anywhere from the button to your email.
You can customize your table by changing the rows, columns, spacing, and background colors.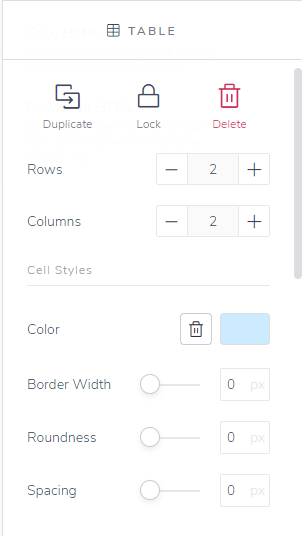 9. Preview and finalize your design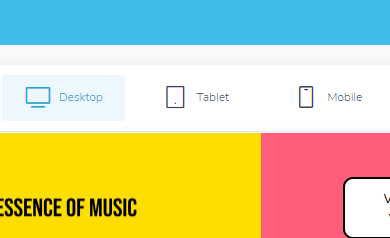 An optimized email is a well-received email. Use the preview options by selecting Desktop, Tablet or Mobile to see how your email looks on each screen. Try not to pack things together as these might mash together on mobile and tablet screens.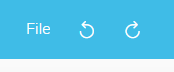 Use the undo and redo options (as shown above) to undo and redo your work. This is handy for fixing mistakes you may make during the editing process.
Step 3: Publish your finished email
Congratulations! You've successfully created a gorgeous-looking email using the PosterMyWall Email Maker. Now it's time to publish. You can do this directly through the Email Maker. And if you want to preview your email before publishing it, you can do that as well by clicking on the 'Preview' button in the top right corner.
Once you're happy with your work, go ahead and click on the yellow 'Publish' button on the top right corner of the Email Maker. Next, click on 'Email campaign' in the Publish menu.
After this, simply add the details as instructed, verify your email, add your address and social links, and finally, upload your mailing list. You can create your mailing list within PosterMyWall or you can upload a ready-made .csv file.
Once you've reviewed the email and sent yourself a test email, your campaign is ready to launch. Click on 'Send email campaign' and that's it! You've just launched your email campaign! All in a few quick and easy steps.
Start your email campaign today!
While getting into email marketing can be a tiresome process especially if you're unfamiliar with the terrain, PosterMyWall's Email Maker allows even beginners to create a professional campaign and launch it in a very short amount of time. So get started today, and if you're stuck at any point, feel free to refer back to this guide or to our Email Maker help center articles.
Other articles you might like:
Here's an additional video resource to learn more about designing emails: