As a Premium or Premium Plus subscriber, you can use PosterMyWall's built-in publishing services to add your mailing list and send your email. If you're using a free account, you can export your email templates by copying or downloading the email template HTML. You can then paste this in an email service like Gmail or Outlook.
Here's how you can export an email template.
Use the navigation bar at the top of the screen:
In the navigation bar, hover over "Templates".
Clicking "Emails" opens the email template gallery.
Select an email template from the gallery.
Alternatively, you can use the sidebar:
In the My Stuff sidebar, click 'My emails'.
Click 'New Campaign' or 'New email'.
Select an email template from the gallery.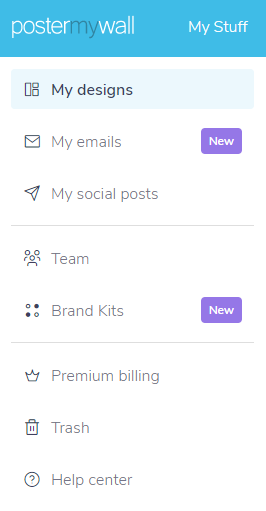 Make required edits to the email template. Once your email template is ready to export, hover over the "Export" button on the top right of the screen. A drop-down list with the options "Copy HTML" and "Download HTML" will appear. To learn more about designing your email, see this article.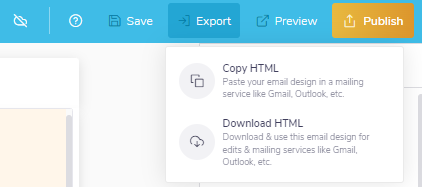 Choose "Copy HTML" if you want to paste your email directly into a mailing service like Gmail or Outlook.
Choose "Download HTML" if you want a .html format text file of your email. You can display the email code through various email clients.
Watch this video to learn more about finding templates for your email campaigns: