Your designs (both images and videos) can be resized using the resize option in the editor. The resize option can be found at the top of the blue bar, beside the save option.

To resize your design:
On the menu above the editor, click resize.
On the resize tab, scroll down to browse the 60+ sizes available.
Use the search box to find specific sizes (such as Instagram posts or banners)
Click the blue Resize button to resize your design immediately.
If you choose multiple sizes, click the Copy & resize button to open the new resized copies on new tabs on your browser. You may be asked to allow PosterMyWall to open multiple pop-ups on your browser if you choose more than one size.
Note: You may have to adjust design elements after resizing a design.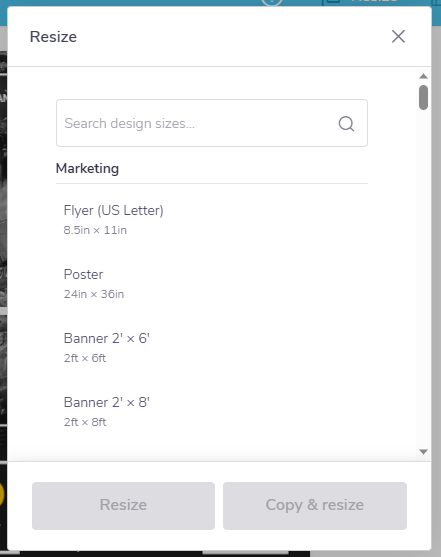 PosterMyWall offers over 60+ sizes for all kinds of marketing purposes, for both offline and online media.
If you do not find the size you're looking for, try Custom Dimensions, which is available at the bottom of the sizes list. You can set custom dimensions in pixels, inches and millimeters.
Note: If you pick multiple designs for resizing, copies of your design will open in new tabs, resized and ready to customize in the editor. The original design will remain unchanged.
To learn more about auto resizing for multiple sizes, watch this video.