The PosterMyWall editor provides an integrated system of adding stock photos and videos, without the need to open an additional tab. You can add stock graphics from Storyblocks, Flickr, Pixabay and Getty Images libraries directly into the PosterMyWall editor.
Adding Stock photos
Stock graphics can be uploaded from directly the editor, without a need to open an extra tab or window. To add a stock photo, click 'Photo' on the left bar, then select 'Add Stock Photo'. A search box will appear on the page, with four tabs below for each Stock website library. Select any library and start typing in the search. Click 'Search' and the results will filter out. Double click any stock photo to add it to your design.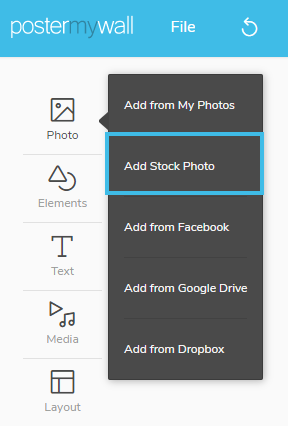 Add stock videos
Similarly you can add a stock video to your design (with a limit of four videos, and one GettyImages video per design). In the editor, go to 'Video', then select 'Add Stock Video'. Start typing and the search results will appear. Double click a video and it will be added to your design.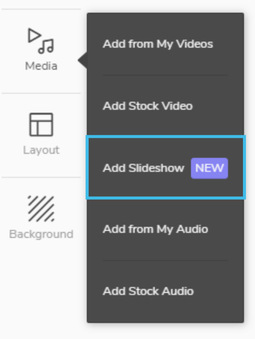 Additional Primers on Stock Graphics
PosterMyWall offers free stock graphics, that is, stock photos provided by Storyblocks, Flickr and Pixabay. Graphics by Getty Images are known as premium stock graphics. No more than three Getty stock images can be added per design, and such a design must be purchased, as adding stock graphics by Getty Images adds a large watermark to your free image download.
You can use stock graphics by GettyImages freely on the Premium and Premium Plus subscription plans.
New to PosterMyWall? Here's a quick video guide to add videos to your designs on PosterMyWall.