When working on your designs, you can easily collaborate with your team for feedback using the 'Collaborate' option. Simply:
Open your design in the editor.
Click 'Collaborate' on the right side of the top blue bar.
Invite Collaborators to design with.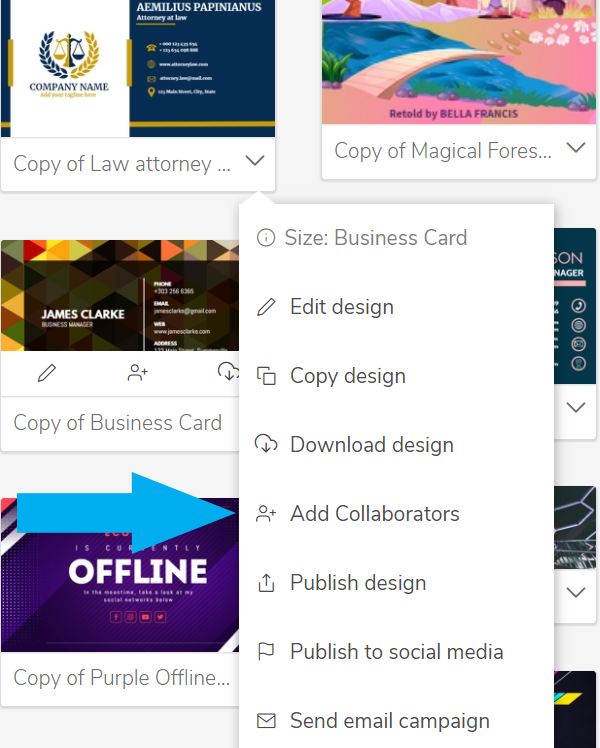 Alternatively:
Open 'My Stuff'.
Click on the downward pointing arrow on the design.
Click 'Add Collaborators'.
You can choose to collaborate using:
Email/ Link
Team Space
Using Email/ Link
You can invite your team to edit via email or an editable link. Edit the title of your design under 'Invite Collaborators To Your Design'. You can give permission to your team to simply view or edit the design using 'Can View' and 'Can Edit' options.
Invite them directly by entering their email addresses under 'Email invites'. You can also add a personalized note for your team via the 'Add personalized message' link. Just click 'send invitations' and the invites get sent via email.
Click the overlapping papers button beside the shareable link to copy the link and share it to your friends using any messenger app. Click the rotating arrows next to the overlapping paper button to generate a new link and make the previous link void. This option is useful if you want to remove editing or viewing access of the design from people who had access to your older link.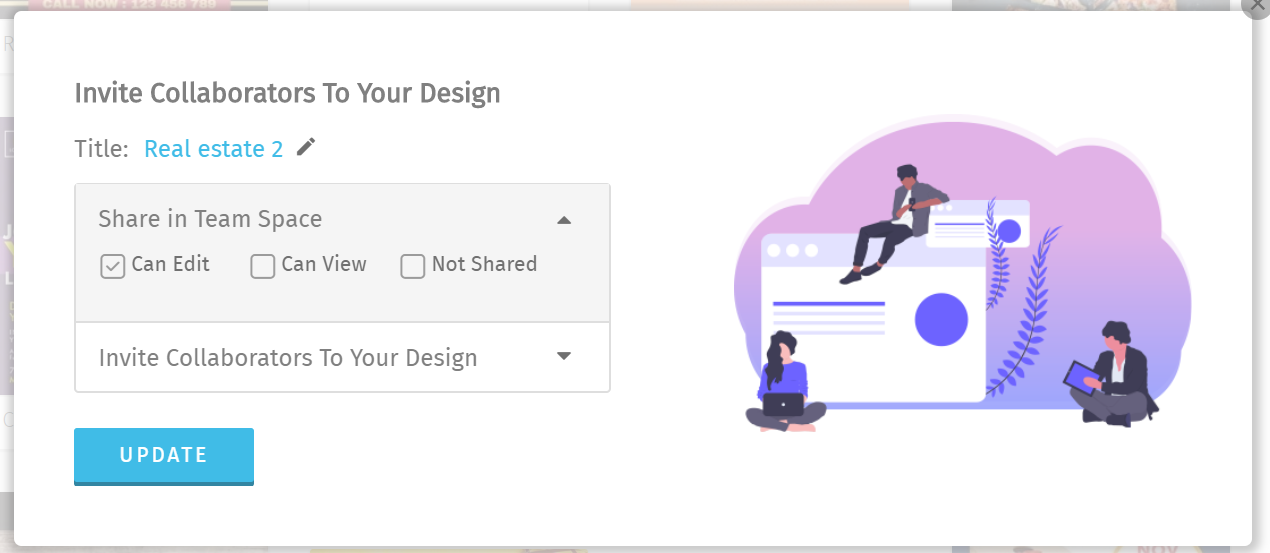 This is a great way to collaborate if your team is on a PosterMyWall subscription plan. Edit the title of your design under 'Invite Collaborators To Your Design'. You can edit permissions to your team to view or edit the design. Then click 'Save Changes' and have your designs shared with the team.
If you want to remove your design from Team Space, check 'Not Shared'.
Sharing Multiple Designs
We also offer a "shared folders" option, which allows you to work with with others in a group. You need not be subscribed to PosterMyWall Premium or Premium Plus to use shared folders. Shared folders also allows for limited permissions, allowing others to simply view the folder. They will still be able to make copies of the design. Use 'shared folders' in situations similar to these:
With your clients so they can view or edit your work
With your students, so everyone can add their submissions to one shared folder
With your friends and family, to show off your designing skills!
With your co-workers, so you can work as a team and collaborate on projects
You can adjust folder settings to allow contributors to edit existing designs, add new designs, copy designs or to invite new contributors to the folder.