For a quick tutorial on changing text font, see the video below:
Changing text font
To change a text font, select a text item.
On the right bar, under 'Styles', select the 'Font' option to reveal a drop down of font options.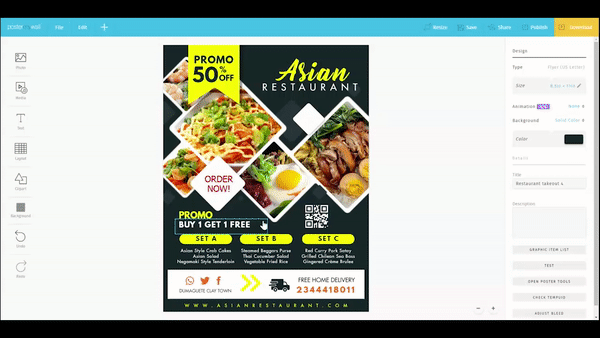 Select a font that suits your design, and the font will be changed. You can also change text size, color, line height, letter spacing and alignment, among other things by other options below 'Font'.
Use the 'Style' options right below your text font to bold, italicize, underline or strikethrough your selected text.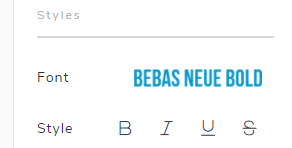 Search text font
Instead of scrolling endlessly through the vast font list, you can also search for particular fonts and filter fonts based on various styles such as Serif, Sans Serif, Modern styles etc.
To start searching, select a text box then click your selected font in the right contextual menu, then click the 'Search for a font' search bar. Enter your search term to start searching for your font. For example, searching 'Source' will give you the full list of Source Sans font types.
If you're not sure about the font you want to use, we have just the solution. Find various 'Styles' available below the search box. Clicking on any of these styles will display a list of fonts for that respective style. The font will list will appear below the 'Styles' tab.
Note: Styles does not act as a search filter. Instead, you can view a set number of fonts of your selected style.
Fancy text
If you're looking for more color and design variety in text, you may find fancy text useful. To use Fancy text, click the Text option on the left selection bar. Then select 'Add Fancy Text' to open the Fancy text menu.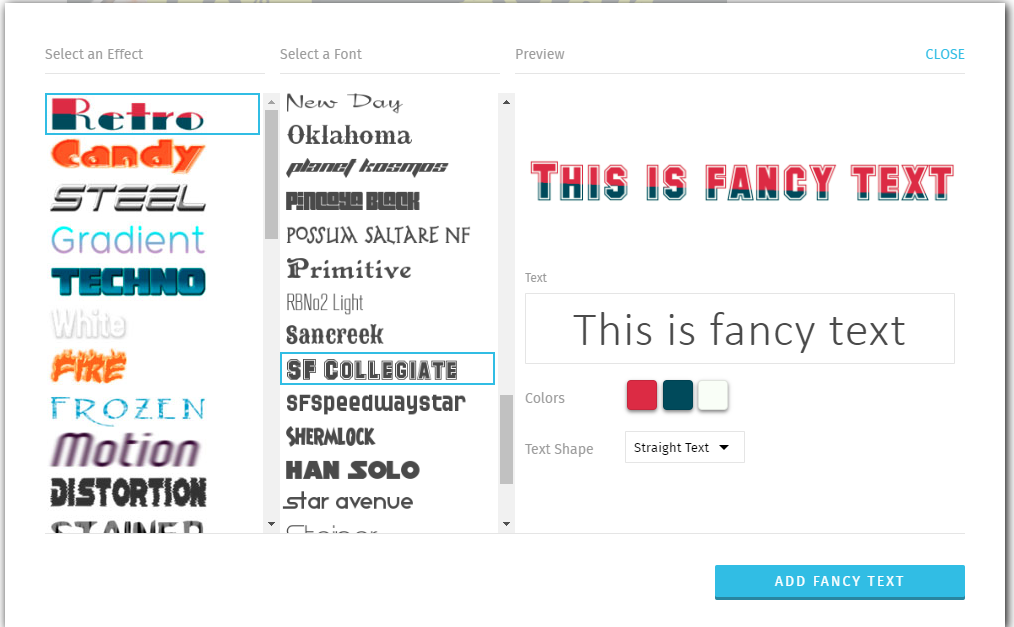 Here, use the first column to select a text effect, the second column to select a font, and the preview to add your text and view it as it comes to life. Use the 'Colors' boxes to change the color(s) on your text. Use the 'Text Shape' option to add a curve, wave, wedge or roof to your text item.