Watch this quick guide to learn more about creating a menu.
PosterMyWall makes designing a menu easy with a user friendly, drag and drop based menu maker.
To create your own menu with the menu maker tool, open your design in the PosterMyWall editor:
Go to 'Layout', then click 'Add Menu'.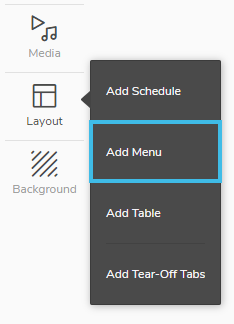 You'll be greeted with an interface similar to what's shown below: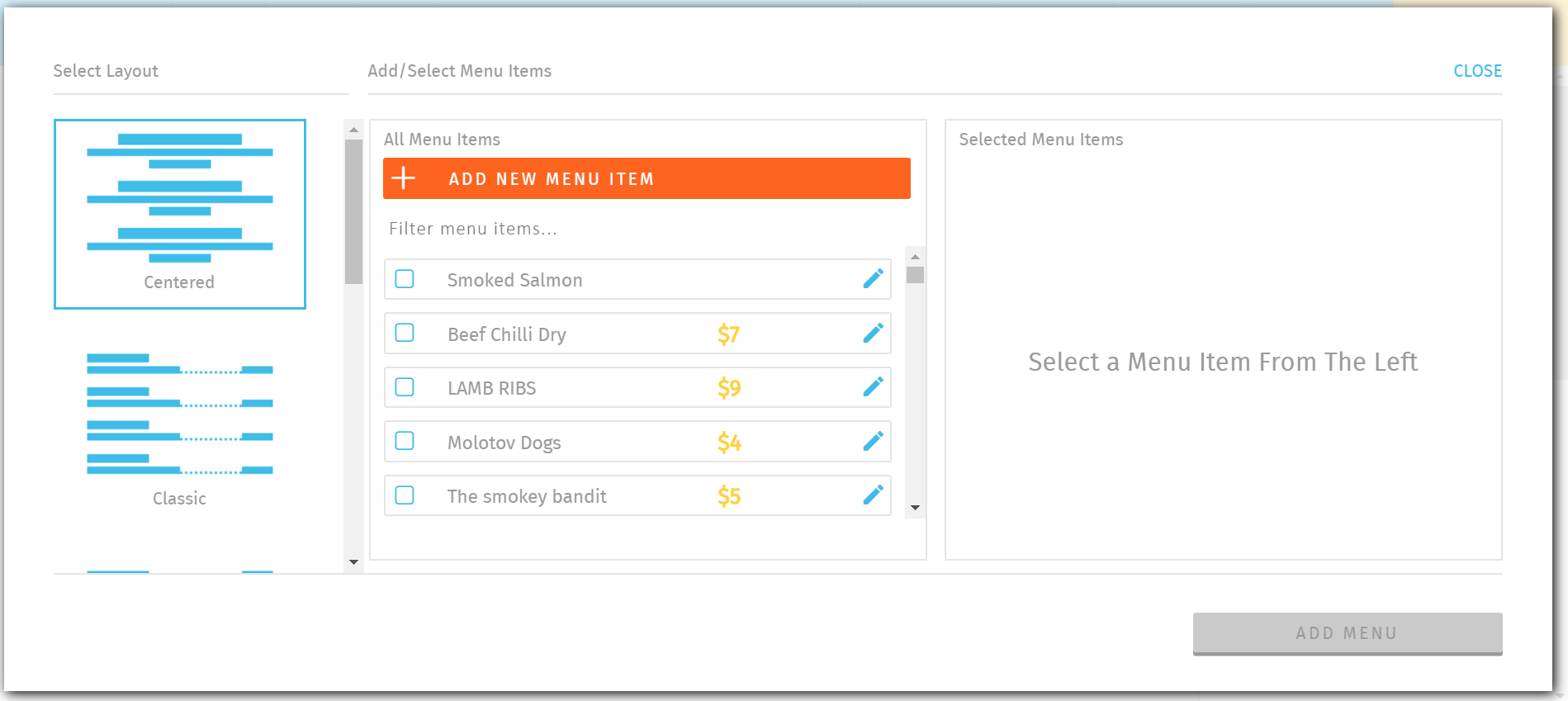 Select layout
On the left, you'll notice 3 different layouts for your menus. Each one is unique, and caters to various designs. Select a layout that best suits your need.
Add and manage menu items in one place
Next, you can click on the orange 'Add Menu Item' button to select which menu items appear on your design. Once you enter your items, they are saved on PosterMyWall for later use as well. This means that you won't have to re-enter your list everytime you create a new menu! Clicking any of the menu items will highlight it in blue and add it to your menu. Clicking it again removes it from your menu. This is a great way to create multiple menus with overlapping items.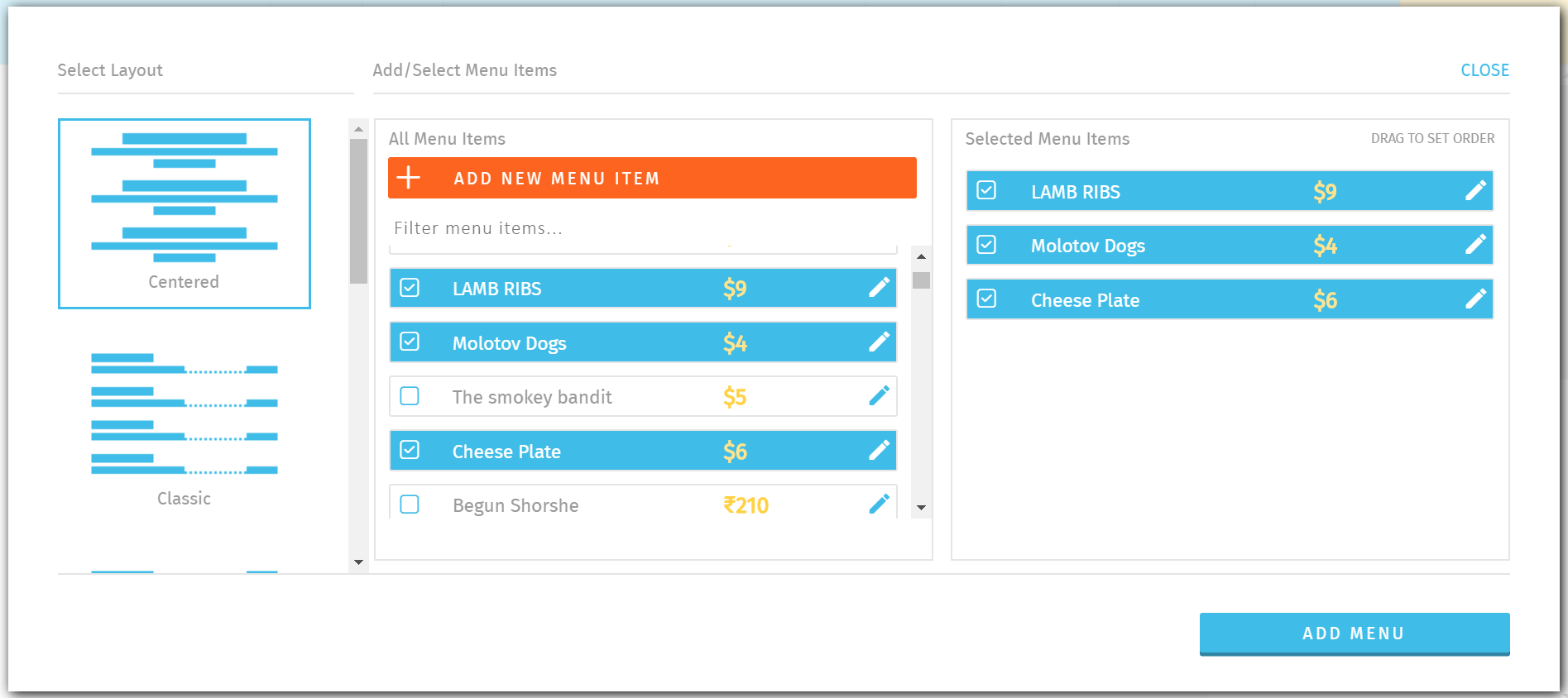 You can also edit previously created items by clicking the pencil button on the right to go to the Edit Menu Item interface.
The 'Edit Menu Item' interface is shown below.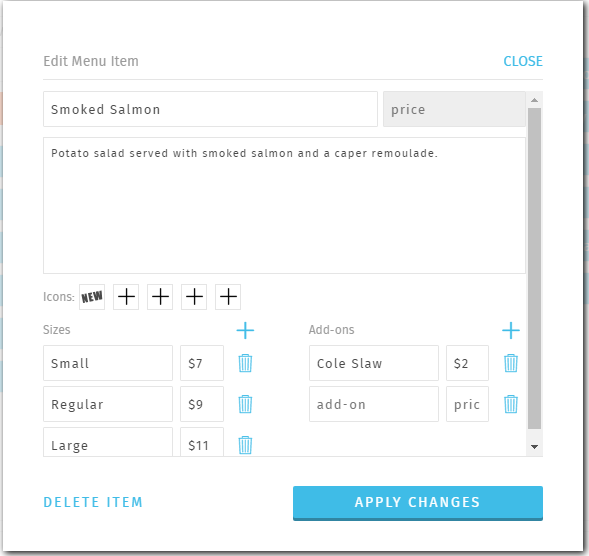 You can add the name, price and even description of the dish in their respective places. Prices for different sizes, and individual prices for add-ons of the dish can easily be added under 'Sizes' and 'Add-ons' respectively.
Click on the plus sign to add icons to represent a variety of facts about the dish without cramming in words into the menu. Use icons to indicate whether the dish is spicy, low fat, vegan-friendly or something along those lines. You can also further edit icons easily, discussed below.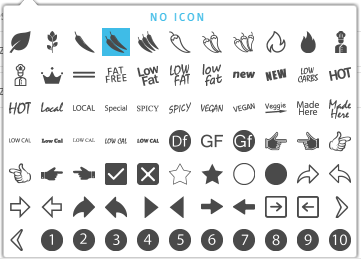 Bring it all together - Add menu items to your design
After creating the menu items, the next step is to add them to the menu itself. It's simple, click on a menu item you would like to get added to the final menu. Once added, the menu item will appear on the right side of the menu creator interface and also appear as blue, like so: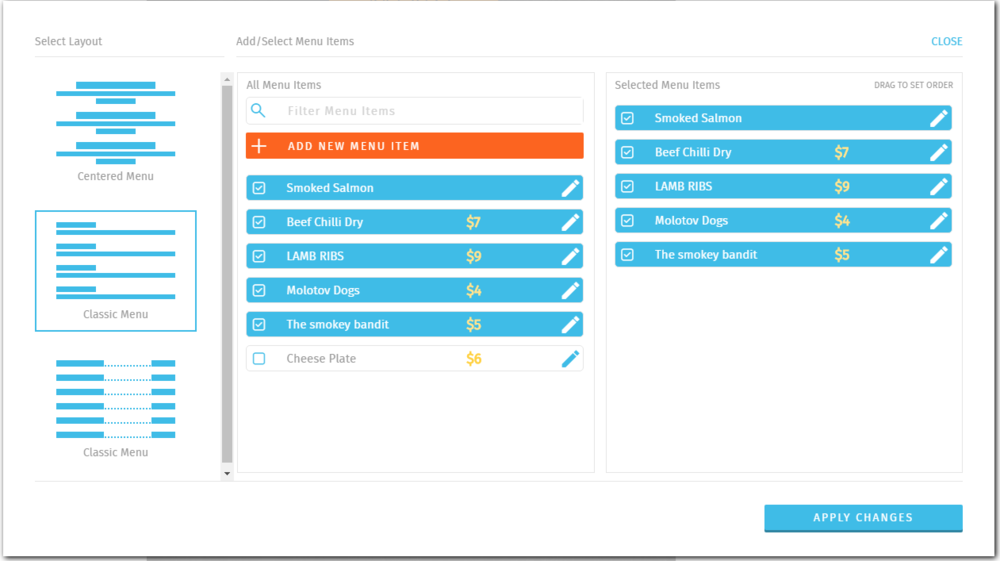 You can add new menu items easily by clicking on the Orange Add Menu Item button, and you can also remove a menu item just by clicking Delete Item, found in the bottom left in the Edit Menu Item Dialog.
The Menu is now almost ready!
Note: You can change the positions of the selected items by easily dragging them up and down to your preferred order.
Create a menu via your mobile phone
Design your menu via your mobile phone by following these steps:
Choose a menu template that best suits your requirements and select it to see the "Customize this template" option. Tap on this option to go to the editor page.
On the editor page, use the "Add" feature on the top selection bar and, in the "Layout" option, tap on "Menu".


In the dialogue box that appears, select a menu layout.
The orange "Add Menu Item" button helps you select which menu items appear on your design. Once your items are added, they are saved in the menu maker for future use.
Once you add an item, it will appear in blue below the orange button and can be edited by clicking on the pencil icon to its right.


To add these items to your menu design, tap on the menu item you want to add and it will appear on the right of the dialogue box and turn blue. Tap on "apply changes" on the lower right to add these items to your menu.
Customization options for your menu
There is more to a menu then selecting a layout and adding menu items. You can fine tune the menu's design by changing fonts, text color, text size, borders and more.
These edit options are available once you select the menu outside the Menu creator, to the right side of the main editor. You can edit the Text Styles, Layout Styles and Icon Styles, with the following options, with their functions described.
Text Style
Font 1 - Change the font of the Menu item and price text.
Font 2 - Change the font of the description text.
Size - Change fonts 1 & 2 sizes.
Fill - Change color of fonts 1 & 2.
Line Height - Change line space between Menu item, description and between all menu items.
Letter spacing - Change letter spacing.
Layout Styles
Background - Add a colored opaque background to the menu. Transparency can be varied.
Background is set to Transparent by default.
Border - Adds a square or rounded border around the menu. Set to no border by default.
Horizontal Spacing - Change distance between menu item and prices.
Vertical Spacing - Change distance between menu items and their respective prices.
Icon Styles
Color - Changes Icon color
Size - Changes icon size.
Your menu is now ready! Share it online or order a high resolution download to get it printed.