Your From email address identifies you as a sender of the emails you've sent to your contacts. When using a free email service provider, such as Yahoo or AOL, you can be limited in terms of what you can do with that email.
The problem arises because when you're using a free email service, you do not own a domain name. Here's what that means for you:
Free email services have policies in place that limit spam, and could inadvertently cause delivery issues and mess up your email blasts.
Free email addresses can't be added to your verified email domains in PosterMyWall.
Here's how we fix this
PosterMyWall helps you send your emails even if you're using a free email domain by making a small change in your From email address when you send your emails.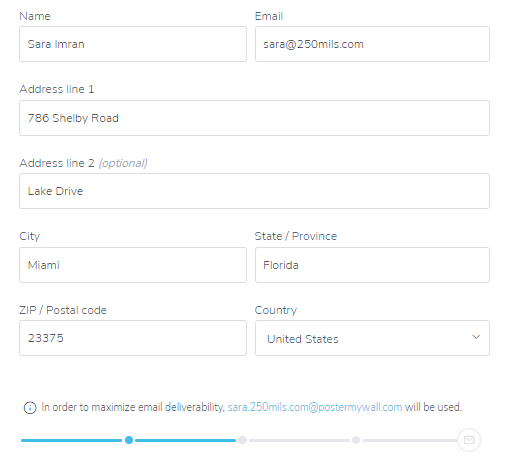 Add your sender email address, without any modification. We will then add the @postermywall.com subdomain to your email and this will all be handled from our end. You don't need to worry about doing anything.
Here's an example of what your email will look like with the added subdomain:
Original email address:
example@ymail.com
Updated with PosterMyWall's subdomain
example.ymail.com@postermywall.com
This will ensure your emails are delivered without any error, because when receiving servers will look at your email, your From email address will be consistent with the domain the email is being sent from, i.e via PosterMyWall.
Note: You can bypass adding the PosterMyWall subdomain if you're on the Premium Plus subscription plan. You can use your custom domain.