To create an email campaign:
Log into your PosterMyWall Account.
Click My Stuff on the top blue bar.
You can create an email campaign by:
Using the New Button
Click the NEW button on the left menu.
Select one of your templates to send an email campaign.
Click Select.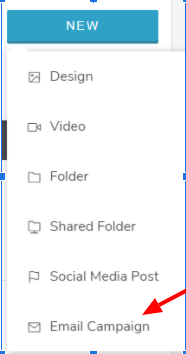 Or
Directly from the template
Click the downward-pointing arrow on the template.
Select Send email campaign.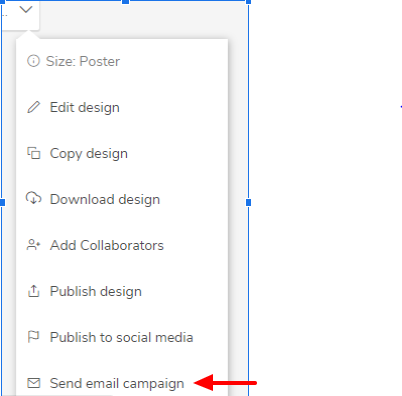 Or
Using the PosterMyWall Editor
Open your design in the Editor.
Click Publish on the top blue bar.
Click "Email Campaign" in the Publish menu.

Then:
Add the details for the email campaign i.e. email subject, preheader, link.
Add a description for your email campaign under "Text Content".
Click NEXT: VERIFY EMAIL button.
Check your email and verify it.
Now you will be asked to enter your postal address and postal code (this is only asked the first time you send out an email).
Add in your details under the PHYSICAL MAILING ADDRESS dialogue box i.e. Address Line, City, etc.
Click NEXT: SOCIAL LINKS.
Add in your social media links.
Click NEXT: MAILING LIST.
Under "Create Mailing List", add mailing list name or email addresses. You can also upload a mailing list by clicking choose a csv. file….
Check the box where it says: "I confirm that all recipients have given their consent to receiving emails from me."
Click: NEXT: REVIEW MAILING LIST.
Click: NEXT: REVIEW AND SEND.
You can "Preview your email in browser" or "send test mail". Here are some points to remember while sending out the emails.
Click SEND EMAIL CAMPAIGN.
Click DONE.
Now your campaign is rolled out and ready to be seen by the recipients.
Still confused? Here's a quick video guide to getting you acquainted with creating your own email campaign.