You can add spaces between sections, and individual items using dividers in the Email Maker.
To add a divider:
Select 'More' from the left email editor menu (it's the last option)
Select and hold 'Divider' from the expanded options.
Drag the divider to your preferred area in the email.
Editing your divider
You can select, click and drag your divider to move it whenever you want.
Use the 'Duplicate' option to add an identical divider right below your selected divider.
Use the 'Lock' option to lock your divider in place. This is useful when you want to keep the item in place without fear of accidentally moving it during the editing process.
Click 'Delete' to remove your selected divider.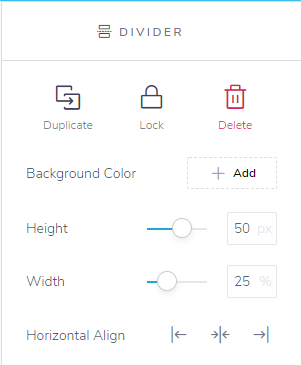 Use the 'Add' option to add a background color of your choice from the color palette. Use the 'Height' and 'Width' options to customize the height and width of your divider respectively.
Use 'Horizontal Alignment' to change the alignment of the divider with respect to the email. Changing the alignment of your divider has no effect if width is set to 100%.
Use all these options to customize the empty spaces in your email.
See our definite guide on the Email Maker or the video below to learn more about creating your own emails with PosterMyWall.